Course Title: Postgraduate Diploma in Creative Commercial Communications
Applicants should have a minimum second class honours bachelor degree (2.2 or higher) in any discipline or equivalent third level qualification.
Applicants not meeting the normal entry requirements but with relevant prior experiential learning may be proposed by the Programme Director for exceptional entry by submitting an Exceptional Entry application to the sub-committee of College Board.
If English is not your first language you will need to provide evidence of your English language proficiency as detailed on our website. Applicants for this course should have a minimum IELTS (Academic Version) English Proficiency of 6.5 overall (or equivalent) with nothing less than 6 in each component.
Note:
Due to the considerable competition for our postgraduate courses satisfying the minimum entry requirement is not a guarantee of a place. Depending on the course of study applications will be assessed based on your academic grades and may also take into account your work/life experience
The Postgraduate Diploma in Creative Commercial Communications is the result of a unique partnership between TU Dublin and The Institute of Advertising Practitioners in Ireland (IAPI) and has been developed with extensive contributions from both industry and academia. It provides career focused continuous professional development for creative commercial communications professionals or those aspiring to work in the creative commercial communications industry.
In addition to academic and research focus, graduates will have demonstrable capacity in the planning, implementation and evaluation of effective, technology-driven, creative commercial communications. The course aims to provide you with strategic, analytical and leadership skills informed by industry engagement.
On successful completion of all six modules on the course you will be awarded the PG Diploma in Creative Commercial Communications and become eligible for the MSc Creative Commercial Communications (Top-Up).

This course is delivered over 18 months, comprising six CPD modules. Each module is taught but has a strong emphasis on self-directed learning and in particular require engagement with both the Marketing Communications and Advertising literature and practice-led theory. The underlying philosophy is to provide a diverse and challenging range of learning experiences in which you can explore an appropriate body of knowledge. Delivery methods involve lectures from a unique mix of both TU Dublin academic staff and key industry practitioners. Each module is delivered as a 3-day bootcamp.
This programme comprises 60 ECTS credits of modules in the principal areas of Contemporary Marketing and Communications, Digital Platforms and Communications, Creative Thinking, Communications Planning and Effectiveness, Insights and Analytics and Leadership in Creative Commercial Communications.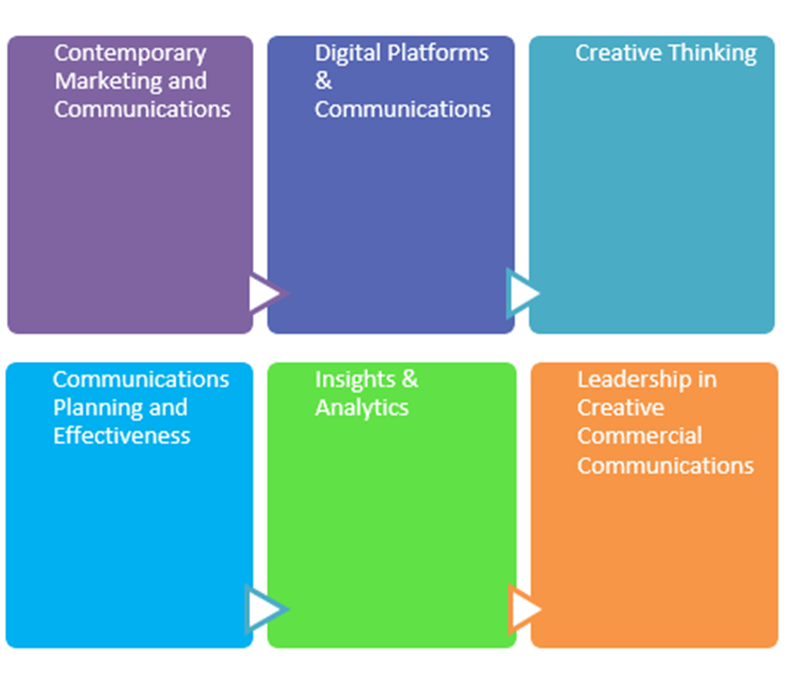 Graduates from the PG Diploma in Creative Commercial Communications and the PG Dip Advertising and Digital Communications are eligible for the MSc Creative Commercial Communications (Top-Up) which is a further 30 ECTS.
| Module | Delivery |
| --- | --- |
| Contemporary Marketing and Communications | 8th, 9th, 10th September 2022 |
| Digital Platforms and Communications | 20th, 21st, 22nd October 2022 |
| Creative Thinking in Creative Commercial Communications | 19th, 20th, 21st January 2023 |
| Communications Planning & Effectiveness | 9th, 10th, 11th March 2023 |
| Insights & Analytics | 4th, 5th, 6th May 2023 |
| Leadership in Creative Commercial Communications | 7th, 8th, 9th September 2023 |