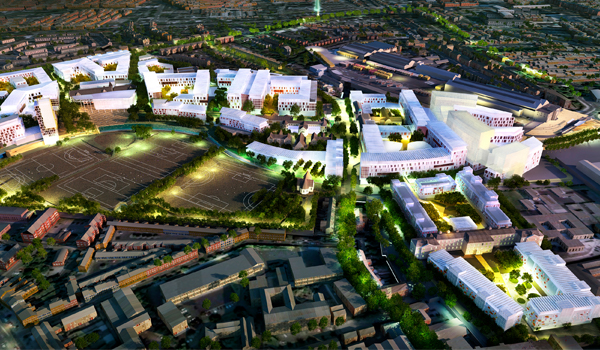 The Grangegorman Labour and Learning Forum (GLLF) has published a report which assesses the socio-economic and demographic characteristics of the Grangegorman area.
Joining Up the Dots 3 is the third in a series of similar studies and follows the GLLF's 2009 and 2013 reports focusing on an area of eight Electoral Divisions (EDs) in Dublin's North West Inner City. The study was carried out by Future Analytics on behalf of the GLLF using data captured by the Central Statistics Office in 2011 and 2016, supported by locally generated information from the GDA and the assessment of publicly available spatial datasets.
The GLLF is a voluntary group made up of representatives from a range of statutory, community and voluntary organisations and stakeholders working within the North West Inner City. Chaired by Dr Noel O'Connor, Director of Student Development at TU Dublin, its members include the Grangegorman Development Agency, the HSE, CDETB, Dublin Chamber of Commerce, Dublin City Council, the North West Inner City Network, the Dublin North West Area Partnership, the Daughters of Charity Community Services, and Mount Carmel Secondary School. Its key focus is to maximise benefits for local communities from the Grangegorman Development.
While the Joining Up the Dots 3 report will be used by the GLLF to inform its future work, it has also been created as a resource for statutory, voluntary and community groups and organisations working in the Grangegorman area to help support their own planning, development and funding processes. Joining Up the Dots 3 can be downloaded here and for more information, please contact Kathleen McCann (kathleen.mccann@ggda.ie).