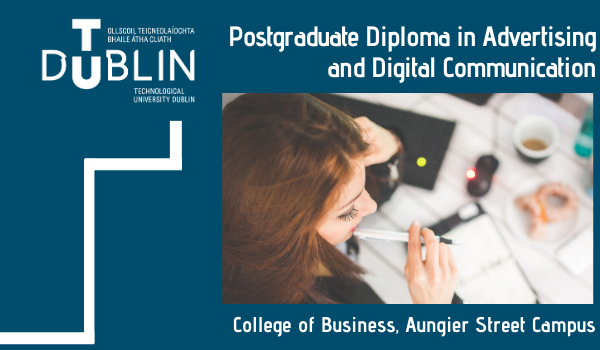 Are you working in advertising and hoping to progress your career in 2020? Perhaps you would like to move into this exciting and fast-moving industry? Well, TU Dublin's Postgraduate Diploma in Advertising and Digital Communication is for you.
Our part-time programme is designed to address the advertising industry's need for skilled professionals with the necessary knowledge to succeed in an ever-evolving marketplace and is delivered over one year on Tuesday and Thursday evenings.
The Postgraduate Diploma in Advertising and Digital Communications - creative and executive streams - provides students with an overview of the Irish Advertising Industry helping them gain a deep understanding of the operations of a communications agency, both internally and in its business environment. The programme mirrors an authentic work environment - real briefs, real clients, all taught by a mixture of industry leaders and TU Dublin academics, participants will be equipped with skills and knowledge that can be immediately applied, making them work and change ready.
Class of 2020 commences on the 27th of January, if you've got what it takes, register your interest now with Dr Rosie Hand, Programme Director on 01 402 7127 or by email at rosie.hand@tudublin.ie.
Hear from our Students-
'Having always wanted to work in the ad industry, the Postgraduate Diploma in Advertising and Digital Communications was a perfect fit. The strength of the lecturers and course content attracted me from the start, and it did not disappoint. Having the opportunity to work with a dynamic group of people, from many different backgrounds, was both a fantastic learning curve and great preparation for agency life. Pitch night was the highlight of the year, and although it was hard work, it was extremely rewarding. This programme has given me the ability to move from an in-house Marketing Executive, to a Senior Account Executive in a creative agency, and I feel it was the skills developed and connections made through this programme, that facilitated this move.'

Robyn Claffey- Account Manager - (Executive Stream)


I would recommend this course for anyone who wants to make a move into the advertising industry from another area, especially those who cannot commit to a full-time course. Having previously completed an online course in advertising and PR, I felt I needed to further my knowledge of the industry and this course was exactly what I was hoping for. For me, the most important consideration was that the lecturers were industry people with plenty of experience, which they were. I have worked in the television industry for over ten years and wanted to upskill in the area of digital /online content advertising in particular, and this course has certainly allowed me to do that.

Dermot O' Hanlon- Freelance Producer/Director- (Creative Stream)