Minister Harris awards funding of €20+ million to innovation projects led by TU Dublin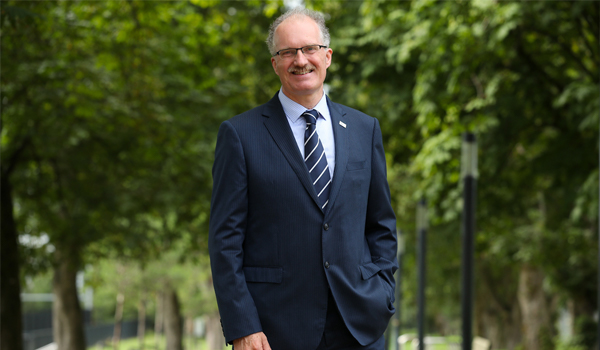 Minister for Further and Higher Education, Research, Innovation and Science, Simon Harris, T.D. has today announced funding of €197 million under the Human Capital initiative for 22 projects in universities and institutes of technology.
The aim of the projects is to develop innovative methods of teaching and delivery on enterprise-focused courses and in particular, to provide lifelong learning and upskilling opportunities.
Welcoming the very significant announcement, the President of TU Dublin, Professor David FitzPatrick said that in the current economic and social climate, investment in the future of our citizens and our enterprises is of the highest importance. "We are delighted that TU Dublin has been successful in bids to lead on two of these projects which together have been awarded over €20 million in funding. We are very excited to collaborate with partner institutions on these and on other very significant projects which were also awarded funding today."
CONVENE, a project led by TU Dublin working jointly with UCD Innovation Academy, has been awarded funding of €17.5 million. This major initiative aims to 'Transform university-enterprise engagement for a new co-learning ecosystem in Dublin'. The project brings together 34 enterprise partners; the UCD Innovation Academy; and from across TU Dublin, will involve 12 Schools, 3 innovation centres and 5 research units.
CONVENE will deliver the skills and innovation needed to rebuild Irish enterprise for sustainability and resilience in the wake of COVID-19. Dr. Deirdre Lillis, Head of the School of Computer Science in TU Dublin who led the successful joint TU Dublin and UCD bid, explains, "The impact of COVID-19 is tragic, destructive and disruptive, but is also a pivotal chance to rebuild our economy and society differently, to fully embrace the digital age and take urgent action for our climate and environment. CONVENE will deliver a step-change in the skills and innovation needed to rebuild Irish enterprise for sustainability and resilience."
Welcoming today's announcement, Professor Suzi Jarvis, UCD, said "The UCD Innovation Academy is delighted to be working with TU Dublin on this exciting initiative to realise the potential of innovative teams across enterprise and higher education to address our most challenging problems."
Uniquely in Irish higher education, CONVENE is organised around seven major employment sectors - ICT/FinTech, Tourism, Food&Drink, Creative&Cultural, Social Enterprise, MedTech and Pharma. Dr. Lillis believes it will create a new co-learning ecosystem at the intersection of enterprise, education and research in Dublin.
The 'Enterprise Faculty' at the heart of CONVENE will be comprised of staff from enterprise, academia, innovation and research, coming together to deliver two unique educational models:
Accredited Talent Development, led by TU Dublin.
This will target in-enterprise learners primarily, including those who have recently become unemployed, and will leverage the enterprise's own capacity for talent development.
Global Innovation Teams, led by UCD
This model will target on-campus students primarily, wherein enterprise challenges are solved by diverse student teams mentored by Enterprise Faculty.
TU Dublin is also leading on a second project which aims to create a learning environment for students at all levels that will stimulate idea generation and exploration. Led by Paul O'Reilly, Head of the School of Management in TU Dublin, in collaboration with WIT, GROWTH HUB, was awarded funding of €3.496,384. Welcoming the funding announcement, Paul O'Reilly said "Recognising that graduates need an entrepreneurial orientation and a growth mindset when they enter the workforce, GROWTH HUB will give our students – from apprenticeship through to PhD, including students in the classroom and the enterprise-based learner – the opportunity to be a game-changer. GROWTH HUB will deliver entrepreneurial outcomes with impact for enterprise and society."
TU Dublin is delighted to be collaborating with partners on CONVENE and GROWTH HUB and looks forward to partnering with other academic institutions on some of the other projects that also received funding including the following:
The ADVANCE Centre for Professional Education was awarded funding of €14,070,668. It is led by UCD, with TU Dublin and IT Sligo collaborating.
CYBER SKILLS, led by Cork Institute of Technology, was awarded funding of €8.1 million, and University of Limerick. TU Dublin, UCD and IT Tralee will collaborate.
Realising the potential of recognition of prior learning and lifelong learning in Irish higher education will be led by IT Carlow with IUA and THEA. Funding of €6.9 million was awarded and 21 partner institutions will collaborate.