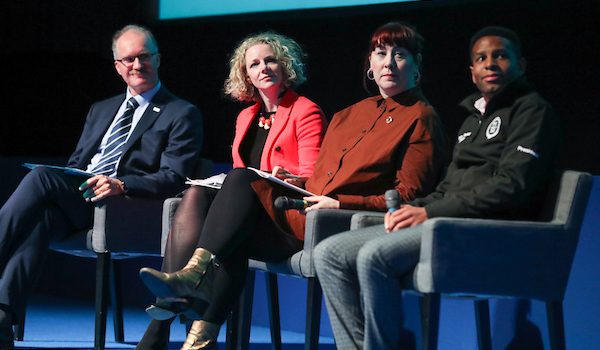 Screen 1 in the Lighthouse, Smithfield Square, was the venue for an unusual cinematic presentation on Thursday morning.
An audience of nearly three hundred people, including TU Dublin students and members of staff, as well as industry and community partners, arrived at 9 am and filled the cinema for the launch of the University's Strategic Plan to 2030 – "Realising Infinite Possibilities". The event was also streamed live on www.tudublin.ie to enable those who couldn't be there in person to participate.
Before the presentation began the audience, which included the Minister for Finance and Public Expenditure, Paschal Donohoe TD, had an opportunity to see the new TU Dublin ad on widescreen. Professor David FitzPatrick, the University's inaugural President, then introduced the background to its first Strategic Plan.
Describing a consultation process that began in May 2019, the President thanked the 2500+ people who contributed views and ideas that helped to frame the content of the plan.
"The Strategic Plan we are sharing with you today has emerged following extensive consultation with our key stakeholders – our students and staff, our graduates, our friends in industry, and our partners in the community. We are very grateful to all of you for beginning this journey with us, and we hope that over the next decade you will continue to be proud of the impact that TU Dublin can make."
Professor FitzPatrick said that at an early stage in the consultation process, a strong desire emerged for the University to consider its potential through the lens of sustainability and in particular, the UN SDGs.
"Taking three of the key pillars of the Sustainable Goals, we are expressing our strategic intent under three themes – People, Planet and Partnership. Under each of these, a myriad of linked actions and goals have been identified across every area of the University. Our objective is that by 2030, TU Dublin will have made a real contribution, and a significant impact on society, on education, on innovation, on the economy and the environment."
Following the presentation, Dr Mary Meaney, Registrar and Deputy President, facilitated a panel discussion during which four people commented on aspects of the strategic plan from the perspectives of students and graduates, of industry and of society as a whole. The panellists were, Claire McGee, Head of Education and Innovation Policy at IBEC; Pierre Yimbog, inaugural President of TU Dublin Students' Union; Dr Caroline O'Sullivan, Head of Creative Media in TU Dublin; and Professor FitzPatrick.
In keeping with its stated goals, the Strategic Plan has been made available as a website rather than as a printed brochure. Its highly visual design was shown to great effect on the cinema's widescreen. A digital download in English and as Gaeilge, rather than as a printed brochure. A short video sets the context for the plan.
Realising Infinite Possibilities - Strategic Plan to 2030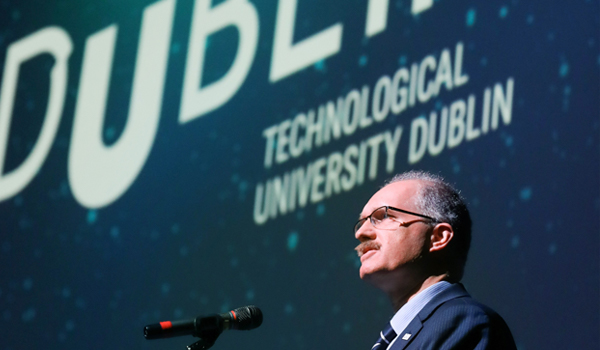 President of TU Dublin, Professor David FitzPatrick
Minister for Finance, Public Expenditure and Reform, Paschal Donohue TD and Professor David FitzPatrick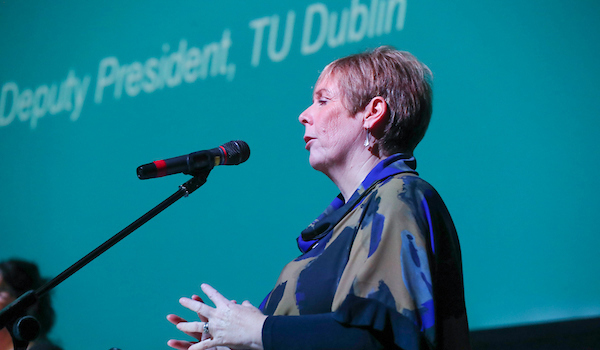 Dr Mary Meaney, Registrar and Deputy President
Pierre Yimbog, inaugural President of TU Dublin Students' Union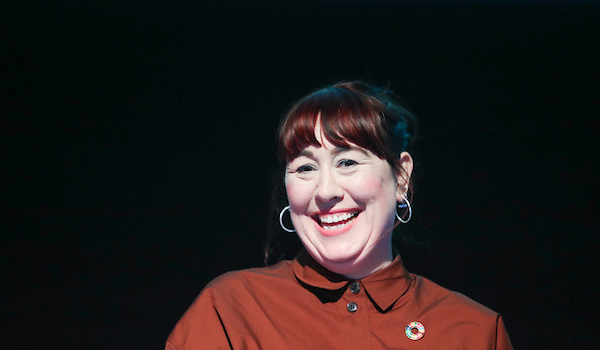 Dr Caroline O'Sullivan, Head of Creative Media in TU Dublin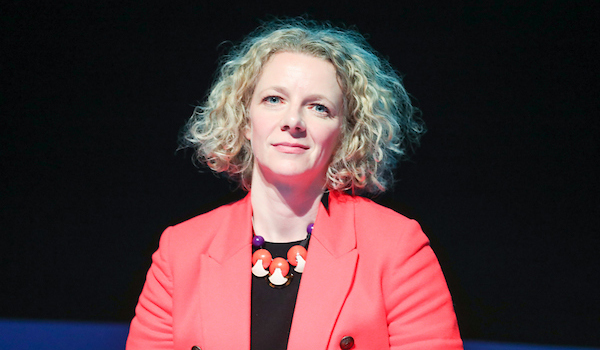 Claire McGee, Head of Education and Innovation Policy at IBEC