Technological University Dublin (TU Dublin) is busy preparing for the arrival of 10,000 students and 600 staff to Grangegorman from their current locations across Dublin City. In our second article about the campus, we are paying the Central Quad a visit.
The largest building in Grangegorman at 36,000m2, the Central Quad will be home to students and staff in the following disciplines;
Biological and Health Sciences
Chemical and Pharmaceutical Sciences
Computer Science
Food Science and Environmental Health
Mathematical Sciences
Physics and Clinical and Optometric Sciences
Culinary Arts and Food Technology
Hospitality Management and Tourism
Electrical and Electronic Engineering
Designed by Feilden Clegg Bradley Studios, a magnificent existing Copper Beech tree is the focus of Quadrangle space, which is surrounded by a simple, but generous, colonnade. Large windows and exhibition spaces on the ground floor open up the building, announcing its role as the teaching and social centre of the University, bringing together staff, students and the community to interact, engage and learn together.
Large lecture spaces, including the Intel Auditorium – a 250-seater lecture theatre, are clustered on the ground floor facilitating the hosting of conferences and public events. The Musgrave MarketPlace and Ballymaguire training restaurants and hospitality facilities are also located on the ground floor, directly fronting onto St Brendan's Way so that students and visitors can enjoy the range of dining options.
Containing a range of general teaching space as well as a range of specialist learning spaces including wet and dry laboratories, workshops, kitchens such as the Blenders New Product Development Kitchen, support spaces and teaching restaurants, the Central Quad will provide many opportunities to create new synergies between disciplines and exciting research projects. An emphasis on facilitating informal learning will carry through all floors with substantial breakout areas on every level where students can gather in small groups to discuss project work and meet informally.
Building work on the Central Quad will be completed by December. Students of sciences and health, electronic and electrical engineering, culinary arts and hospitality management will begin the academic year in their previous locations (Kevin Street and Cathal Brugha Street), but will migrate to the new campus ahead of Semester 2.
You can also find out how to get to Grangegorman on the Luas, Bus, on foot or by bike here.
Central Quad Interior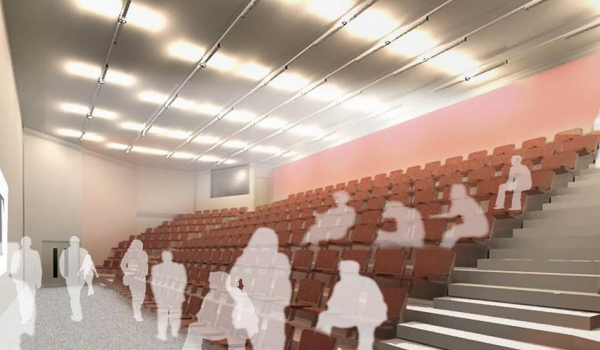 250-Seater Intel Auditorium