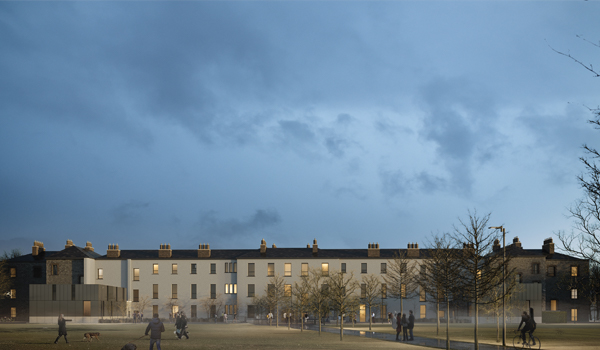 TU Dublin is busy preparing for the arrival of 10,000 students and 600 staff to Grangegorman from their current locations across Dublin City. The oldest building in Grangegorman, the Lower House which will be completed in December, is the focus of our latest article.
Opened in 1815, the Lower House was designed by Francis Johnson, the leading architect of the day whose other work includes the GPO. The building is the only part of a quadrangle complex still standing, was part of the original Richmond Asylum, and later became part of St. Brendan's Hospital.
At its peak in 1896, the Richmond Asylum had 2,375 patients. While the other wings of the quadrangle were demolished in the late 1980s, the Lower House was retained owing to its impressive frontage. This picture below shows the quadrangle design of the asylum, the Lower House is mostly out of shot, but its eastern edge can just be seen in the middle left of the picture.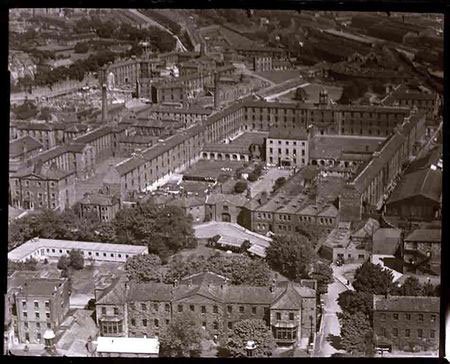 Unoccupied since the late 80s, TU Dublin and the Grangegorman Development agency began an ambitious project to restore the building and bring into use on the new University campus, providing a range of services for the staff and student body. There will be a large catering facility and coffee shop while the building will also provide Student Union areas and facilities along with a dance studio and some indoor sports areas. There will also be several practice rooms for the TU Dublin Conservatoire, with a landscaped walkway linking the Lower House to the East Quad. FKP Architects are leading the multi-disciplinary design team on the project.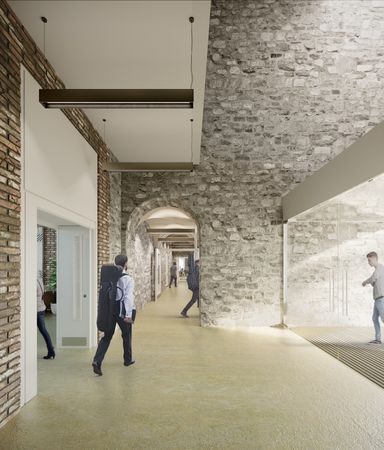 Lower House Interior