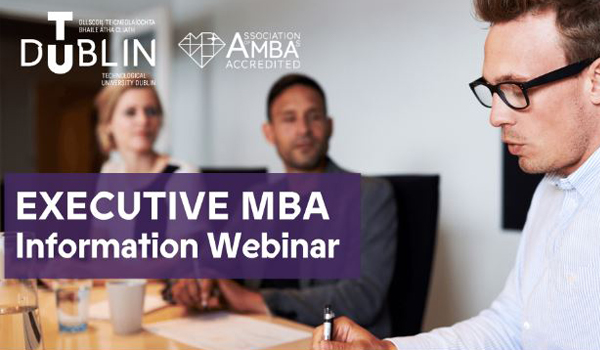 TU Dublin is hosting a webinar about its AMBA-accredited MBA programme on Tuesday, 26 May from 1-2pm.
The TU Dublin Executive MBA is designed to develop your leadership potential, and provide you with the knowledge, business frameworks and entrepreneurial outlook required to advance your career to the next level. Our MBA students come from a wide range of backgrounds and bring different insights and approaches to problem-solving, resulting in unparalleled peer learning and a valuable network for life.
Our alumni consistently tell us that the TU Dublin Executive MBA is a truly transformational experience and the success of our graduates is a testament to this.
Register your interest here on Eventbrite and we will send you the live link for this session prior to the event.