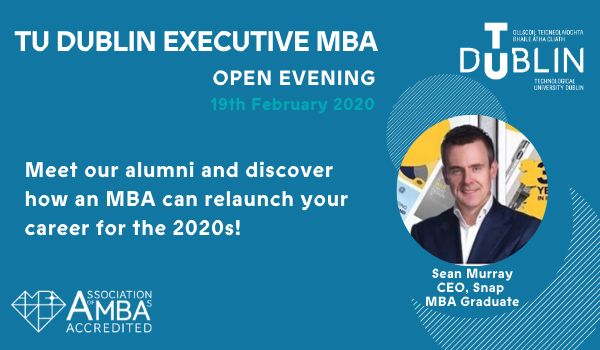 TU Dublin invites you to join us for our Executive MBA Open Evening, Wednesday 19th of February. Meet our alumni and career experts, and discover how an Executive MBA at TU Dublin can relaunch your career for the 2020s!
TU Dublin Executive MBA Open Evening
6.30 pm, Wednesday 19th February 2020
Room 1-077, 1st Floor, Aungier Street, Dublin 2
The TU Dublin Executive MBA is designed to develop your leadership potential, and provide you with the knowledge, business frameworks and entrepreneurial outlook required to advance your career. This is an extremely rewarding programme that develops professional practice and enables you to move beyond your specialist area and acquire a more holistic overview of Business.
The programme is a clear progression pathway for those who want to advance into more senior roles or perhaps run their own company. We aim to challenge perspectives and to encourage our participants to approach business issues with an innovative focus.
Our alumni have consistently told us that the TU Dublin Executive MBA is a truly transformational experience and the success of our graduates is testament to this. Come along on February 19th and find out how the TU Dublin Executive MBA can transform your career.
The event is free, but registration is essential on Eventbrite.
We look forward to welcoming you!
Maria Fitzgerald
MBA Programme Manager
e: mba@tudublin.ie