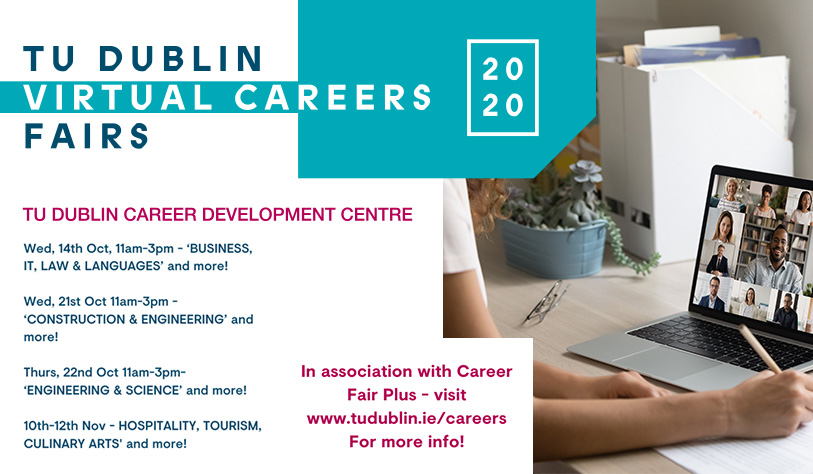 Every year, the Career Development Centre offers our students the opportunity to connect with recruiting employers and this year it will be no different!
Our Careers Fairs are going virtual giving you the opportunity to meet employers from a wide range of sectors, Don't miss out on this valuable opportunity, check out further info and the sign-up instructions here!
What employers have signed up? Check out the list below!
Business, IT, Law and Languages
14th October, 11am - 3pm
Employers include: ACCA, AIB, Accenture, Aldi Ireland, BDO, Bord Bia, Citi, CPA Ireland, Davy, Deloitte Ireland, Ericsson, EY, ESB, Fidelity Investments, First Derivatives, Jameson - Irish Distillers, Kerry Group, KPMG, Lidl, Mazars, McCann FitzGerald, Musgrave, PayPal, Revenue Commissioners, RSM, Salesforce, Workday, with more signing up every day!
Construction and Engineering
21st October, 11am - 3pm
Employers include: Arup, Atkins Global, Cairn Homes, Cogent Associates, Collen, Designer Group, Dornan Group, DPS Group, ESB, Exyte, Glenveagh Properties, Linesight, Mercury Engineering, McAleer & Rushe, Mitchell McDermott, Mott MacDonald, Roughan & O'Donovan, John Paul Construction, Jones Engineering, KSN Construction Consultants, Mulcahy McDonagh & Partners (MMP), Murphy International, O'Connor Sutton Cronin, PM Group, Secto, Turner Townsend, Walls, with more signing up every day!
Engineering and Science
22nd October, 11am - 3pm
Employers include: Abbott, Amgen, Applied Materials, Astellas, BMD & Co, DHL Global Forwarding, Eirgrid, ESB, Glanbia, H & MV Engineering, Hanley Calibration, Intel, Jameson Graduate Engineering Programme, NeoDyne Ltd., Nikon Precision Europe, Pfizer, Premium Power, Procter & Gamble, Zenith Technologies, with more signing up every day!