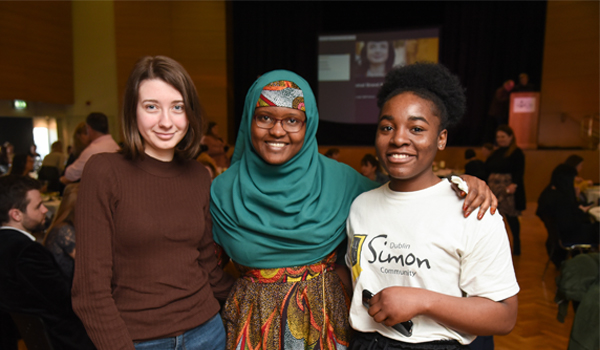 Following today's announcement by Minister for Higher Education Mary Mitchell O'Connor TD, Technological University Dublin (TU Dublin) now has approval to recruit two women to key senior academic roles in the University.
The funding for the posts will be provided under the Senior Academic Leadership Initiative (SALI) – a targeted, positive action initiative which aims to accelerate gender balance objectives at senior academic leadership levels in Irish higher education institutions.
The posts approved by the SALI assessment panel in TU Dublin are:
Professorship in Inclusive Computer Science
Professor of Public Trust in the Media, Arts and Technology
The President of TU Dublin, Professor David FitzPatrick, said, "Equal participation of men and women at all levels is essential to our success as a University, and to a thriving and sustainable society. The announcement today by Minister Mary Mitchell O'Connor T.D that TU Dublin is to receive funding for two Senior Academic Leadership Initiative posts is most welcome particularly in the context of our Athena Swan Bronze Award and Action Plan."
Professor Yvonne Galligan, Director of Equality, Diversity & Inclusion at TU Dublin, said, "When a first-year student of any gender identity arrives in TU Dublin, it is important that they see full and effective participation of women in a leadership role in a range of disciplines. Today's announcement will see the appointment of two women to Professorships in Computer Science and Public Trust in the Media, Arts and Technology strengthening the gender diversity of our senior leaders in TU Dublin."
Dr Deirdre Lillis, Head, School of Computer Science at TU Dublin, who led the proposal for the Professorship in Inclusive Computer Science, said, "In 2020, the vast majority of our information technology is designed by men and this has far-reaching consequences for diversity and inclusion across all dimensions. The focus of this professorship in inclusive computer science is to transform the learning experience of young women pursuing degrees and careers in computer science, ultimately diversifying the talent pipeline into a critically important sector."
The submission for the Professorship of Public Trust in the Media, Arts and Technology was led by Dr Caroline O'Sullivan, Head, Creative Media at TU Dublin with colleagues from Media, Creative Arts, Humanities and Informatics, across the University. She said the announcement could not have come at a better time. "Public trust in the Media and Technology has never been lower; however, the need for greater public understanding and critical engagement has never been higher. Media, Arts and Technology have been proven to have a considerable impact on gender equality as under-representation contributes to unbalanced, distorted portrayals and messages. The post's ambitious programme of work will aid the University, Government and Industry to address the significant underrepresentation of the women in the Creative Industries workforce particularly at decision-making levels."
The appointments under the SALI initiative will add to the range of initiatives currently underway to advance gender equality among staff and students in TU Dublin. For example, the very innovative Esteem Mentorship Programme aims to attract and retain female students in engineering and computer science by bringing them together with professional mentors from leading multinational tech and engineering companies in Ireland.
Notes to Editor
Professorship in Inclusive Computer Science – prepared by Professor Deirdre Lillis and the computer Science Schools in TU Dublin
This Professorship in Inclusive Computer Science education is a longer-term strategic initiative to increase the pipeline of females into academic and research careers and to gender balance a crucially important economic sector. The Professorship is differentiated from existing initiatives in industry and academia by focussing on curriculum and learning environment reform within computer science (CS) faculties. In the past five years, TU Dublin has made significant progress in gender balance, both staff and students, in our own environment. We are now at a crucial stage to build on this initial momentum and activity. The Professor in Inclusive Computer Science will work in a TU Dublin, national and European context to increase the participation of females in third-level Computer Science (CS) programmes by leveraging our distinctive flexible programme provision.
Professor of Public Trust in the Media, Arts and Technology – prepared by Dr Caroline O'Sullivan and the School of Media, School of Creative Arts, Department of Humanities and Department of Informatics in TU Dublin.
The Professor of Public Trust in the Media, Arts and Technology will lead an ambitious programme of work that will have at its heart the civic engagement and diversity work that make media, arts and technology accessible to all and will highlight and develop the existing media, artistic and community collaborations and partnerships across TU Dublin. The impact of this position will be far-reaching and will contribute to public policy, community engagement, RD&I and programme provision.
It will create a space for discussion and involvement around fundamental questions where the public interest, gender and diversity issues and media and creative technologies meet, addressing inter alia: media literacy and news poverty; media and effect; bias in Artificial Intelligence; data analytics; surveillance: public space and personal privacy; responsible innovation; the Anthropocene; gaming culture; and the dynamics of gender inequality across digital media platforms. TU Dublin is uniquely positioned to advocate and drive areas of long-term societal change that may otherwise be under-represented. Trust within the media-technology-society nexus is one such area to which this role is directly addressed. The professorial appointment will through the leadership of University initiatives such as the Culture, Technology & Society Living Laboratory instigate and inspire public engagement on the cultural, sociological and anthropological perspectives on technological development.