CAO Change of Mind, Live Chat Event - 29 June at 3pm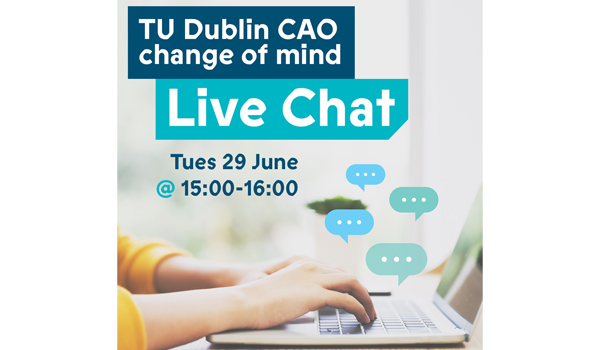 Now that the exams are over, you may be considering making some changes to your CAO choices before the Change of Mind facility closes on Thursday, 1 July at 5:15pm. To help you with your deliberations, TU Dublin is hosting a live chat event on Tuesday, 29 June, from 3-4pm.
If you're mulling about making a change, this event is a perfect opportunity to ask questions about the courses which interest you most at TU Dublin. You can register here, and we will send you a reminder text or email on the day itself.
In the meantime, our CAO Hub is a one-stop shop for anyone considering undergraduate study at TU Dublin with information about all of our campuses, disciplines and student life at TU Dublin. You can read about our courses, see videos featuring our students and graduates discussing their TU Dublin experience, and even message our student ambassadors, who are on hand to answer all your questions.
A safe return to campus
Over the last year and a half, our students have spent much of their time studying online, but now TU Dublin is developing detailed plans for a safe return to campus in the autumn. Of course, virtual study will continue to be a feature of student life. Still, we are planning the return of on-campus delivery of workshops, labs, studios, project work, seminars, and smaller teaching groups.
Revealing Grangegorman
The most exciting news is that our new buildings - the Central and East Quad - are now open and ready for students that will join us from September. You can check out videos of the new Quads below, and there is lots of other information available here.