Clothing Love Story Competition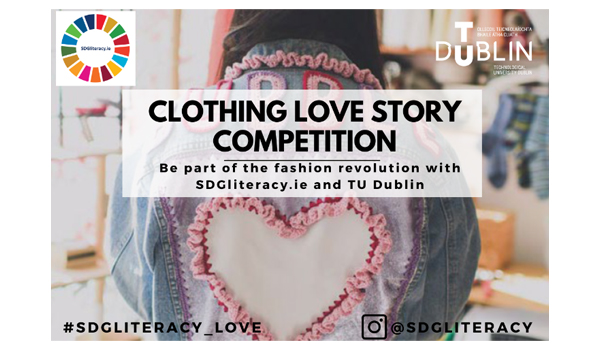 Be part of the fashion revolution with SDGliteracy.ie and TU Dublin. Share your clothing love story for the chance to win an Apple Watch and other prizes.
Fashion Revolution Week is the time to engage everyone to create a better fashion industry. It centres around the anniversary of the Rana Plaza factory collapse on 24 April 2013.
To coincide with Fashion Revolution week, SDGliteracy at TU Dublin are urging people to shop less and more responsibly.
According to Fashion Revolution, "By keeping our clothes for longer, cherishing them and taking better care of what we already own, we can dramatically reduce the environmental impact of our wardrobes."
To encourage people to celebrate and make the most of what they already own, SDGliteracy is asking fashion fans to share their own clothing love story on Instagram using the hashtags #sdgliteracy_love
How to Enter
For full competition details, how to enter, clothing love story inspiration, and to view our Clothing Love Stories Gallery visit our dedicated website.
Prizes: 1st Apple Watch SE, 2nd & 3rd Beats EP Headphones
Closing Date: Sunday, 25 April 2021