Convene launches programme to address skills shortages in Tourism & Hospitality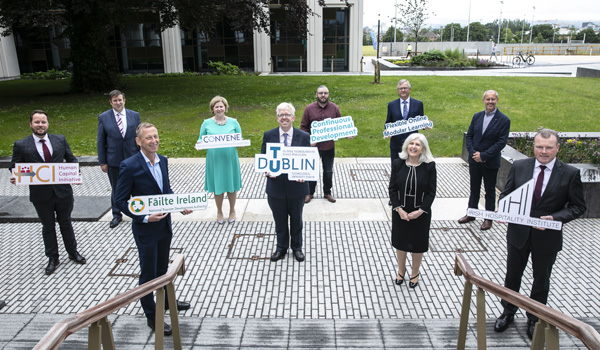 Convene, an exciting new academic-enterprise partnership established by Ireland's two largest universities, Technological University Dublin and University College Dublin, today launched a new suite of third-level education programmes aimed at supporting talent development in the tourism and hospitality industry. Funded by the Human Capital Initiative[1], Convene's overall objective is to deliver the priority skills and innovation necessary to fast-track a resilient economic recovery in the wake of Covid-19. This particular Convene initiative aims to assist the tourism and hospitality industry to retain and regain qualified staff, particularly in the context of those who may have left the industry due to the pandemic.
Prior to COVID-19, the hospitality and tourism industry employed over 260,000 people, making it one of Ireland's largest employers, as well as being the industry with the greatest regional spread of economic activity. Unfortunately, the pandemic has had a disproportionately negative impact on tourism and hospitality. Thousands of skilled workers have had to seek employment in other sectors with no guarantee that they will return to the tourism and hospitality industry simply because Covid-19 restrictions are now lifting.
The launch of the programmes today at TU Dublin flagship campus in Grangegorman, was attended by members of the Tourism and Hospitality Careers Oversight Group, who have worked in conjunction with the School of Hospitality Management & Tourism in TU Dublin and the UCD Innovation Academy to increase the capacity in higher education for skills-focused programmes designed to meet the priority skills needs of the tourism and hospitality industry.
The new programmes will operate as a flexible, online Continuing Professional Development Programme in direct response to the needs of the tourism and hospitality industry. These third-level modules announced today are just one of a number of initiatives from the Careers Oversight Group that aim to address the skills and labour challenges facing the tourism and hospitality sector.
The Hospitality Supervisory Management (Level 6) modules will upskill staff in critical areas including HR Management, Financial Management, Sales and Marketing, Digital Skills, Customer Service, Supervisory Management, Sustainable Tourism management. The Hospitality Management Development (Level 9) modules will include Leadership and Change management, Project Management, Revenue Management, Management Accounting, Asset Management.
Minister for Tourism, Culture, Arts, Gaeltacht, Sport and Media, Catherine Martin TD said:
"Investing in our existing and future tourism professionals is vital to ensuring the sustainable growth of the tourism and hospitality sector into the future. I very much welcome today's announcement of the first and only tourism and hospitality modular programme under the Human Capital Initiative Pillar 3 - Innovation and Agility. The development of these modules by TU Dublin in collaboration with the Tourism and
Hospitality Careers Oversight Group and funded by my colleagues in the Department of Further and Higher Education, Research, Innovation and Science is a fantastic example of innovation in higher education aligning with the future skills needs of the industry."
Minister for Education, Simon Harris TD said:
"The Irish hospitality and tourism industry is a world leader in excellence and innovation. As we rebuild and recover after the pandemic, it will be vitally important to our communities, businesses and the broader economy.
However, the past 15 months have been incredibly difficult for the sector. That's why programmes such as these are so important.
The industry has shown great resilience, and I want to thank them for that. Now it's time to focus on building up skills to protect staff and businesses, and to make sure new entrants are offered highest quality of training. I am convinced these Professional Development Programmes will deliver on all that and more."
Dr Dominic Dillane, Head of the School of Hospitality Management and Tourism, TU Dublin, and a member of the Convene project board, said:
"These new programmes have been co-designed and informed by collaborators from the hospitality and tourism industry with a view to helping people adapt and re-skill to succeed in these uncertain times. Going forward, Convene will be working on further initiatives to help the wider Tourism sector respond to the rapid, and disruptive changes that are shaping our world are having a significant impact on whole sectors of our economy. Prior to the pandemic, Tourism was Ireland's largest indigenous industry. It is therefore important that higher education plays a constructive role in helping to reinvigorate this key engine of our national economy."
Paul Hayden, Head of Tourism Careers Fáilte Ireland, said:
"Developing the skills of tourism professionals is a critical step in the recovery of the tourism industry, and the creation of these modules is a result of positive collaboration between organisations to address the skills needs of our industry.
This flexible and innovative approach to professional development enables tourism professionals to progress their careers and will help our tourism industry survive and thrive as we move through the recovery phase."
Tina Maree, National Executive Officer of the Irish Hospitality Institute, said:
"As the professional body for the Hospitality & Tourism Industry, the launch of these programmes today is a direct response to industry training needs to upskill and provide Continuing Professional Development for both supervisors and managers. The modules are designed to allow students to learn and work on an online, part-time and flexible basis, building credits to a full award with progression a pathway."
To find out more about the programmes and application process click here.
Tourism and Hospitality Careers Oversight Group
The purpose of the Tourism and Hospitality Careers Oversight Group (COG) is to support sustainable employment in the tourism and hospitality sector in order to attract and retain new and existing talent within the tourism and hospitality industry. Since its inception in 2019, members of the Tourism and Hospitality Careers Oversight Group have collaborated on a number of initiatives to address labour supply and skills requirements in the sector and to help with recruitment and retention.
The group is chaired by Paul Hayden, Fáilte Ireland and members include the Irish Hotels Federation (IHF), Irish Hospitality institute (IHI), Restaurant Association of Ireland (RAI), Association of Visitor Experience and Attractions (AVEA), Licensed Vintners Association (LVA), Vintners' Federation of Ireland (VFI), Higher Education Authority (HEA), Education Training Board of Ireland (ETBI), Regional Skills Dublin, SOLAS, Technological Higher Education Association (Thea), Department of Employment Affairs and Social Protection (DEASP), Business Tourism, Department of Tourism, Culture, Arts, Gaeltacht, Sport and Media and Department of Further and Higher Education, Research, Innovation and Science (DFHERIS)
Human Capital Initiative
The Human Capital Initiative (HCI) is delivering an investment targeted towards increasing capacity in higher education in skills-focused programmes designed to meet priority skills needs of industry.
The HCI consists of 3 main pillars. The funding under each was awarded through a series of challenge based competitive call models.
The three Pillars are as follows:
1. Pillar 1 – Full-Time Graduate Conversion Courses
2. Pillar 2 – Additional Places on Existing Full-Time Undergraduate Provision
3. Pillar 3 – Innovation and Agility