Final Year Business and Management student wins ACCA NextGen CFO of the Year Competition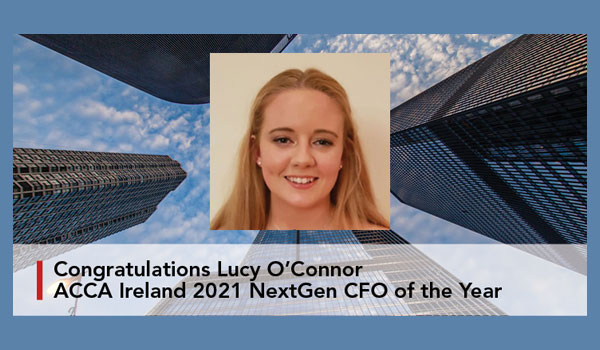 Lucy O' Connor, final year BSc Business and Management student was announced the Winner of the ACCA NextGen CFO of the Year Competition 2021 alongside finalists Anderson de Paula, Munster Technological University and Tomás Scully, Trinity College Dublin.
The ACCA NextGen CFO of the Year Competition is an initiative that rewards and recognises university students who not only excel academically but have the drive to get to the top of the finance profession and showcase vital CFO qualities such as leadership, business acumen and integrity.
The competition evaluated all elements of the submitted business plans including finance, marketing, HR and project management. Lucy pitched a business plan focused on helping lower the amount of plastic waste at music festivals. Her product "Quench" is a small edible and tasteless capsule made from seaweed that contains one shot.
Caitriona Allis, head of ACCA Ireland said: "It is with great pleasure that we announce Lucy O'Connor as the 2021 winner of ACCA Ireland's NextGen CFO of the Year award Lucy is a final year student studying Business and Management at Technological University Dublin and gripped our judging panel's courtesy with her business proposal 'Quench', a biodegradable drink shot. Lucy showcased the clear qualities and skills of a future business leader including innovation, business acumen and forward-thinking, making her a deserving winner of the award.''
Lucy commented on the whole experience "It was a great experience that made me put into practice everything I have learnt throughout my time in TU Dublin. Getting to present my ideas to such a high calibre judging panel was also invaluable- for the final round I had to present to industry experts and participate in a Q&A session".
The experience has impacted on Lucy's next career steps. Lucy is looking forward to starting on the Aer Lingus Finance Graduate program in September. "With the Aer Lingus graduate program, I will be rotating through the different teams within their Finance department. While working I will complete my accounting exams with the ACCA"
Programme Director, Dr. Pat Kenny congratulated Lucy on her win "Lucy's accomplishment is evidence of her own growing prowess in business, finance, and accounting; we are delighted for her and wish her every success in her future career. We are very proud that yet another BSc Business and Management student has found success in such competition. This is one more testament to the hard work and commitment of the teaching staff on the programme."
Lucy is grateful to all those lecturers in TU Dublin who have guided her over the last few years with special thanks to Alice Luby, Lecturer in Financial Accounting and Sean O Reilly, Assistant Head of School of Accounting & Finance.