Horizon 2020 'CLIC' Final Conference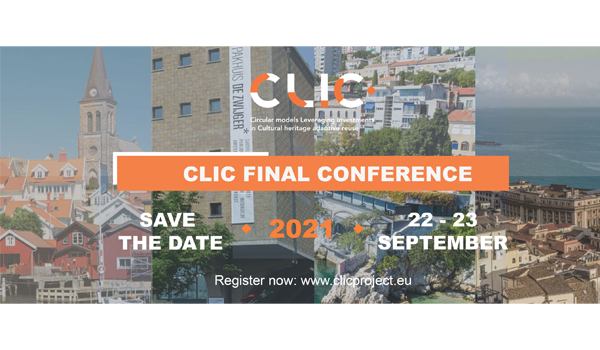 The final conference of the Horizon 2020 project CLIC "Circular models Leveraging Investments in Cultural heritage adaptive reuse" will be online next 22-23 September.
The #CLICFinalConference will present the reflection conducted within CLIC on the "human-centred" circular model for circular cities and regions through cultural heritage adaptive reuse to contribute next EU Recovery and Resilience strategies, including the European Green Deal and the New European Bauhaus, and the research results on new evaluation tools, circular governance models, circular business models and innovative financing instruments for cultural heritage adaptive reuse.
The #CLICFinalConference is organised by the CNR IRISS – Institute for Research on Innovation and Services for Development, Coordinator of the project, together with other 15 European Partners from academia, local government, social and business sector.
Join the #CLICFinalConference to discover how the circular economy model can be applied to cultural heritage adaptive reuse, co-generating multiple benefits for cities and regions with local communities, and co-creating new meanings of heritage places, enhancing wellbeing, ecosystems and human health.
For registration, please visit the CLIC Final Conference webpage here and read the Draft Agenda.