Minister Harris welcomes a landmark development in Open Access research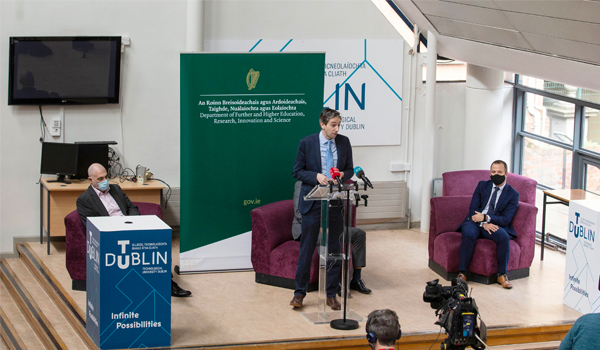 Minister for Further and Higher Education, Research, Innovation and Science Simon Harris TD has welcomed Ireland taking a huge step forward in providing open access to research.
The IReL initiative, funded by the Department of Further and Higher Education, Research, innovation and Science, has struck transformative agreements with 11 major international academic publishers.
As a result, researchers based at participating member institutions of the IReL Consortium, including TU Dublin, are now able to ensure that the articles they write are made available openly, immediately and at no cost to researchers, learners and citizens nationally and internationally by the publishers involved.
Until now such research, although funded by tax payers, was frequently behind pay-walls and only accessible to those with expensive subscriptions. Global issues such as climate change, sustainability and disease control require international collaboration and this new level of access to Irish research is both significant and essential. The transition from restricted to open access was a vital factor recently in the rapid development of COVID-19 vaccines.
Speaking about the announcement Minister Harris said: "Supporting research and inclusivity are two key objectives of my department, and these transformative agreements mark important progress in both areas. Open Access is good for researchers, good for Ireland and good for all involved in education or indeed those not involved in education.
"Publicly funded research will now be publicly accessible by all. It is a transformative day for Irish research, and I am delighted that the support of my Department has made it possible."
Ireland has been on a journey towards fully open access to its research publications for some time, initially through local repositories maintained by libraries at many institutions and more recently the publication in 2019 of the National Framework on the Transition to an Open Research Environment (NORF). NORF's objective aligns with a European Commission recommendation to member states in 2018 and strong impetus from research funders Open access is now an expectation, not an aspiration.
The latest agreements cover publishing in 10,000 journals internationally and should result in open access to an additional 2,000 articles by member institutions annually.
Speaking at the announcement of the transformative agreements Professor Philip Nolan, Chair of the Board of IULCC, said: "Today's announcement marks the culmination of a huge amount of work by many colleagues across the third-level and wider public sectors. These agreements are further evidence of the important work of IReL in supporting Irish research at every step of the research process from conception to dissemination. It is particularly exciting and timely that so much Irish research will be freely available to citizens in Ireland and around the world."