Revealing Grangegorman - The Lower House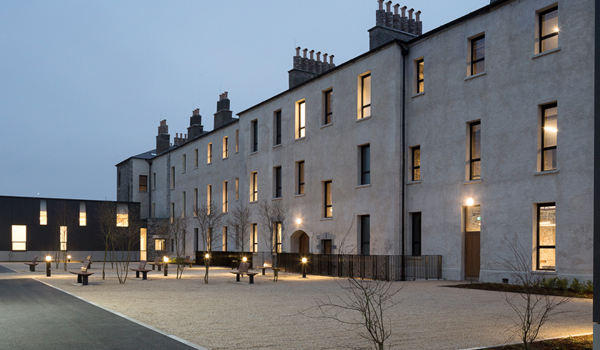 From September 2021, approximately 10,000 TU Dublin students will be based on the University's new campus at Grangegorman. The oldest building on the campus, the Lower House, is now home to TU Dublin Societies, Sport and the Students' Union.
Opened in 1815, the Lower House was designed by Francis Johnson, the leading architect of the day whose other work includes the GPO. The building is the only part of a quadrangle complex still standing and was part of the original Richmond Asylum, and later became part of St. Brendan's Hospital.
This video explores the history of the Lower House and the ambitious project to restore the building and transform it into a multi-purpose space for students. FKP Architects were the lead firm in a multi-disciplinary design team tasked with this project.
Once public health restrictions allow, students will be able to participate in a range of activities in the Lower House organised by TU Dublin Sport and Societies and the Students' Union.
Sports
TU Dublin Sport will offer a range of fitness classes and small group training in Mills Bodypump, Les Mills GRIT, HIIT, Pilates, Kettlebells, Met-Con, and so much more. There will also be a state-of-the-art indoor cycling studio featuring the new Keiser M3i model. With this bike, you can transmit your workout data to your phone, smartwatch, or tablet to maximise your workout.
Societies
The Lower House will be home to a range of TU Dublin Societies and Dance, Theatre and Music activities, which will take place in the Common Room on the first floor. There is also an event space on the second floor that will host Social Occasions, Masterclasses, Film Screenings, Gaming Tournaments, Performances, Exhibitions and Volunteering events.
Students' Union
TU Dublin Students' Union is also based in the Lower House, occupying the TU Dublin Students' Union Common Rooms on the ground and first floors. Here they will host Workshops, Panel Discussions, Cultural Celebrations, Tournaments, Comedy Nights, Film Screenings, Award Ceremonies, Class Meetings and much more!
TU Dublin Conservatoire
18 music teaching and practice rooms to complement Conservatoire facilities in the East Quad.
Read more about Grangegorman here.