Science and Engineering at TU Dublin Begin a New Chapter in Grangegorman
For over 130 years, Kevin Street was synonymous with technological education in Ireland, but this week, TU Dublin closed the gates of Kevin Street for a final time as staff and students relocate to fabulous new facilities in the Central Quad on our Grangegorman campus.
Arnold Felix Graves, the father of technical education in 19th century Ireland, founded the first Technical School in Kevin Street with financial support provided by Dublin Corporation. The School opened in October 1887 with 220 students commencing classes. From the very beginning, Kevin Street offered education and training at the leading edge of technology, a tradition that was maintained over many generations and which TU Dublin will continue in the Central Quad.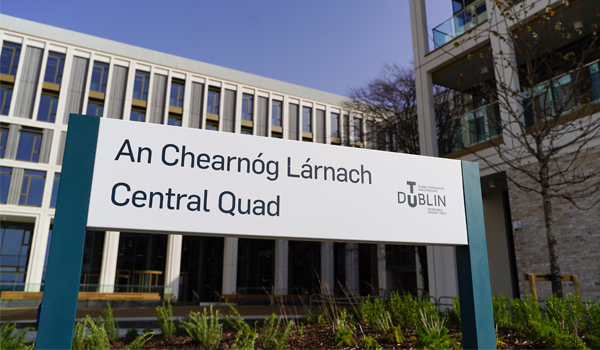 The Central Quad is the largest building on the new campus (35,000 sqm), and it is now home to disciplines in Sciences & Health, including the Schools of Biological and Health Sciences, Chemical and Pharmaceutical Sciences, Computer Science, Food Science and Environmental Health, Mathematical Sciences, and Physics and Clinical and Optometric Sciences. The School of Electrical and Electronic Engineering has also moved from Kevin Street to the Central Quad, and they will be joined by the Schools of Culinary Arts and Food Technology and of Hospitality Management and Tourism, which will move from the equally iconic Cathal Brugha Street.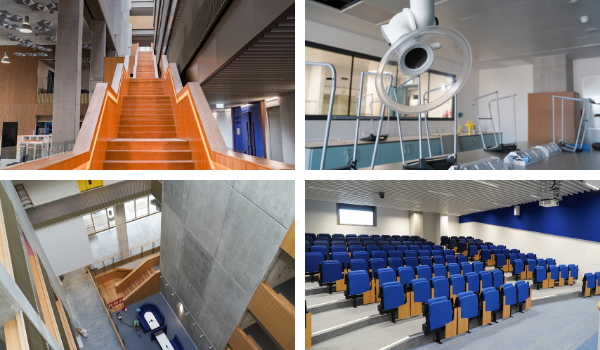 Central Quad
The Central Quad's highly specialised laboratories and learning centres will provide a world-class education environment, attracting the best and brightest students to TU Dublin and positioning researchers at the forefront of scientific discovery. The emphasis throughout the building is on openness and accessibility, putting learning 'on show' and allowing students and visitors to observe activities in laboratories and training kitchens.
The Central Quad follows the opening of the East Quad at the end of 2020, which is now home to students and staff of Creative Arts, Music, Drama, Social Sciences, Law and Media.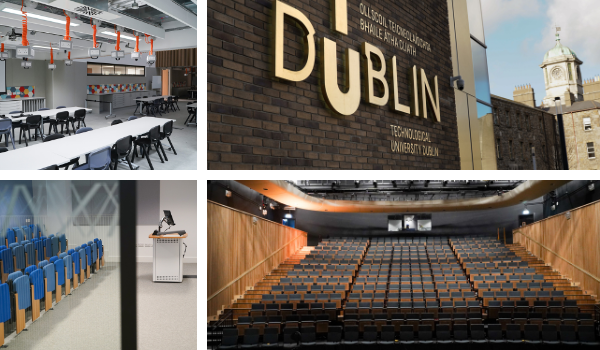 East Quad
The fluid nature of the design and the vibrancy of the learning environment facilitates exhibitions of students' visual artwork as well as dramatic and musical performances in the 400-seat Concert Hall, 80-seat Black Box Theatre and 80-seat Recital Hall, all of which will be accessible to general audiences once public health restrictions are relaxed.
Three existing buildings were also significantly upgraded and refurbished to offer a range of facilities and services to both students and staff – the Lower House, Rathdown House, and Park House.