Sirus Announces Winners of 2020 Scholarships for Building Engineering Students at TU Dublin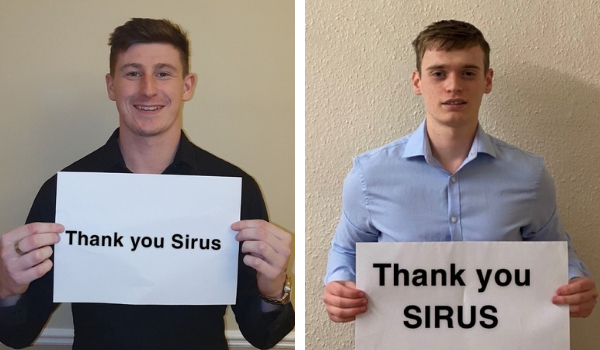 TU Dublin, in partnership with Sirus, are delighted to announce the awardees of the 2020 Sirus Scholarship programme.
The aim of the SIRUS Scholarship for Engineering is to award passionate and motivated students who will make their mark on the built environment. Scholarship awardees are students who have demonstrated determination, resilience and a desire to impact the built environment and society for the better.
TU Dublin and Sirus are delighted to announce the worthy recipients of the award for 2020/21 academic year as John McKenna from Fairview in Dublin and Cian McDonnell from Leixlip, Co. Kildare, both 3rd-year students in the Bachelor of Engineering programme in Building Engineering.
An awarding ceremony took place online. Presenting the scholarships were Michael White – Managing Director and Padraic Cremins, Engineering Director with Sirus.
Speaking at the event, Dr Avril Behan, Dean of Engineering and Built Environment at TU Dublin highlighted the significance of the scholarship programme, now in its fourth year with eight students have received, not only substantial financial support from Sirus but the recognition and motivation that comes with being selected. Dr Behan thanked Sirus for their continuing support and recognition of Building Engineering students in TU Dublin, gratitude that was echoed by Dr Ciara Ahern, Head of Discipline.
The 2020 awardees both also extended their gratitude.
"This scholarship means a great deal to me, as it not only contributes financially towards my future studies, but it also serves to reinforce belief in myself and my progression towards becoming a future engineer" Cian McDonnell
"The scholarship will remove a lot of the burden around college fees. I am thankful not only for this financial aid, but it also shows that I am taking the right steps forward through college." John McKenna
Michael White, Managing Director of Sirus, noted that "the buildings in which we spend 90% of our time are responsible for about half of global energy use. This energy use contributes significantly to global greenhouse gas emissions. Society urgently needs exceptional engineers that specialise in energy and buildings to help realise quickly, ambitious climate change targets for the built environment. We are delighted to recognise high calibre students such as Cian and John, the engineers of the future."
TU Dublin is very grateful to Sirus for this important continuing partnership.
Are you interested in studying Building Engineering? Please find out more about our full-time programme here.