State of Play 2021, 10 June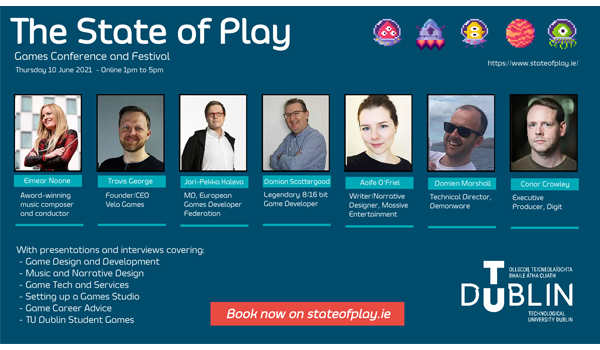 TU Dublin hosts the State of Play, a Games Conference and Festival, on Thursday, 10 June, from 1 to 5 pm online.
This year, State of Play has an exciting and diverse list of speakers representing game start-ups, studios, content creators and technology providers.
With the advent of the planned new government tax credit for Irish gaming, the sector is poised for accelerated investment and rapid growth over the next few years. We are delighted to have both local and international speakers covering areas such as retro gaming, game design, music production, narrative design, and game tech to discuss this and other topics. So if you are interested in hearing about game development trends, insights and lots more, please join us as SOP 2021.
Speakers include:
Damian Scattergood
Ireland's Original Game Developer, Legendary 8-bit coder
Jari-Pekka Kaleva
Managing Director, European Games Developer Federation
Travis George
Co-Founder/CEO, VelaGames
Eimear Noone
Award-winning Music Composer and Conductor
Aoife O' Friel
Writer/Narrative Designer, Massive Entertainment
Damien Marshall
Technical Director, Demonware
Conor Crowley
Executive Producer, Digit
Hugh McAtamney
TU Dublin, Head of School of Media
More information about State of Play is available here.