TU Dublin Competes in Irish CFA Institute Research Challenge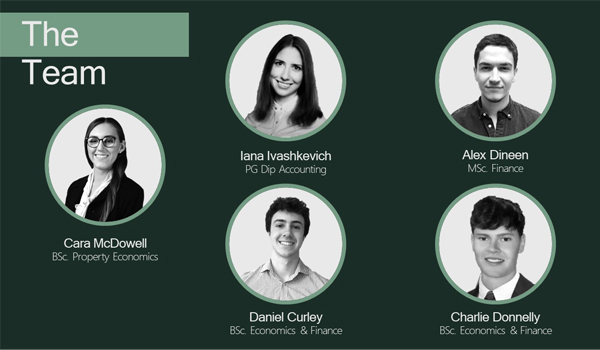 TU Dublin is taking part in the Irish Chartered Financial Analyst (CFA) Institute Research Challenge this Thursday.
The CFA Institute Research Challenge is an annual global competition that provides university students with hands-on mentoring and intensive training in financial analysis and professional ethics.
Each student will be tested on their analytical, valuation, report writing, and presentation skills. They gain real-world experience as they assume the role of a research analyst. Local-level competitions are organised and judged by CFA Institute society members and volunteers who function as local hosts with the winning university team from each local competition advancing to the sub-regional competition.
In 2021, the Irish company being analysed is Yew Grove REIT plc. The CFA Institute Irish Society has provided exceptional support to students in a remote environment. Students could hold virtual Q&A sessions with Senior Management in Yew Grove, which was a very authentic and real to life experience.
This year, TU Dublin is represented by team captain Cara McDowell (BSc. Property Economics), Iana Ivashkevich (PG Dip Accounting), Alex Dineen (MSc. Finance), Charlie Donnelly (BSc. Economics & Finance) and Daniel Curley (BSc. Economics & Finance). TU Dublin's industry mentor is Patrick O'Donnell from Goodbody.
An academic mentor to the team, Seán O'Reilly, says, "This is a fantastic opportunity for our students in what is TU Dublin's second year participating in the competition. While it is taking place remotely this year, the CFA Institute has made it as authentic as possible for the students who have learned a great amount in such a short space of time, and we are really excited to participate in this highly prestigious competition".