TU Dublin Engineering Students Visit New Children's Hospital Site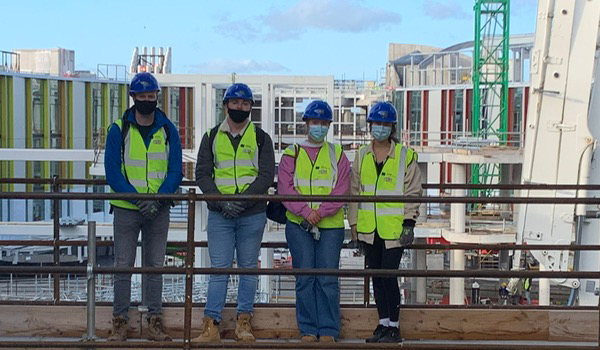 In October, five engineering TU Dublin students - Eoin Leonard, Muireann Farrell, Sarah Shannon, Ben Kinsella and Robert Kerr - undertook a site visit to the New Children's Hospital in Dublin 8.
The students were accompanied by Michael McDonald, while the Chairperson of CIBSE Ireland, Michael Curran, arranged the visit.
The University's Transforming Tomorrow Partner, Jones Engineering, hosted the visit and provided full guided access to the mechanical and electrical services throughout the extremely large and complex project.
Speaking about the visit, Michael McDonald said, "This was a unique opportunity for engineering students to witness first-hand the challenges they will face in delivering a world-leading modern hospital. Although the project's sheer size is hard to comprehend, imagine a building that is as long as Grafton Street and as large as Dundrum Shopping Centre."