TU Dublin Hosts 15th Annual Retail Symposium, 22-24 March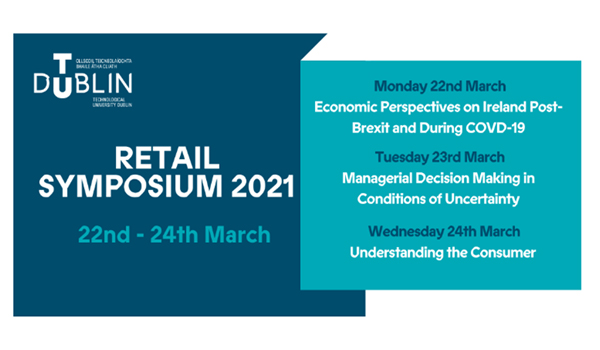 The University's annual Retail Symposium will have a cross-sectoral focus on alternative retail scenarios for 2021.
There will be a specific emphasis on economic issues, retail decision-making, and the strategic importance of market knowledge in the dynamic context of the COVID-19 pandemic and post-BREXIT European context.
The symposium will host an eclectic mix of views from economists, senior retail executives and customer insight experts on contemporary retailer issues and challenges. The remote audience will consist of TU Dublin academic staff and students, corporate industry partners and international academics from Universities all over the world.
TU Dublin Retail Symposium takes a different focus each day; the first day - Monday 22nd, takes a look at Economic Perspectives on Ireland Post-Brexit and During COVID-19, and TU Dublin will be joined by Jim Power, Founder & CEO Jim Power Economics and Austin Hughes Chief Economist, KBC Bank Ireland.

On the 23rd of March, TU Dublin will take on the topic of Managerial Decision Making in Conditions of Uncertainty with Dan Goggin- Retail Sales Manager- Health, Beauty & Pharma at Google, Malachy Hanberry, Managing Director, Eurospar & Director - BWG Group and Devan Hughes- Managing Director & Founder BUYMIE.ie.

The final day - 24th March - takes a close look at Understanding the Consumer with Dan Ryan, Commercial Director, Peachylean.com & The Beauty Buddy and Maoliosa Connell, Director of Marketing, Creative & Buying, Avoca Ireland.

Register on Eventbrite
Monday, 22 March 2021: Economic Perspectives on Ireland Post-Brexit and During COVID-19
Tuesday, 23 March 2021: Managerial Decision Making in Conditions of Uncertainty
Wednesday, 24 March 2021: Understanding the Consumer