TU Dublin Hothouse Presents Supporting Innovation and Research Collaboration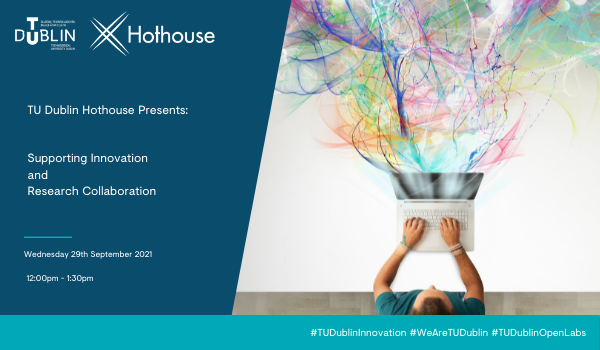 TU Dublin Hothouse will host Guest Speakers from a range of supports and funding for our Learn & Lunch webinar series.
Please find out how companies, students, staff and researchers can engage with local and national supports to help them grow their business or idea. Don't miss your opportunity to learn more. Register today.
Who should attend?
This webinar will be of use to anyone interested in local and national business supports, Grants and Funding, Research and Collaboration with TU Dublin and growing your business/idea/product and service.
Agenda
12:00pm – 12:05pm
Launch of an event with Dr Paul Maguire, Head of Innovation and Enterprise, TU Dublin
12:05pm – 12:15pm
Deirdre O'Neill; Senior Regional Development Executive - Dublin; Enterprise Ireland
12:15pm – 12:25pm
Maria Deady; International Project Executive - Dublin Chamber
12:35pm – 12:45pm
Gary Stokes; Deputy Manager - Funding for Growth – InterTradeIreland
12:45pm – 12:55pm
Claire Minchin; Development Advisor - Skillnet Ireland
12:55pm – 1:05pm
Julian Seymour; Business Consultant - Dublin BIC
1:05pm – 1:15pm
Audrey McPartlin​​​​​​​; Employer Relations Officer - Department of Social Protection
1:15pm – 1:25pm
Audrey Bridgeman; Assistant Principal Officer in Business Taxes Policy and Legislation Division - Revenue Commissioners
1:25pm
Q&A Follow Up and Close
Date: 29th of September 2021
Time: 12:00pm – 1:30pm
Registration: https://learnandlunchsep.eventbrite.ie