TU Dublin MBA team wins National Strategy Competition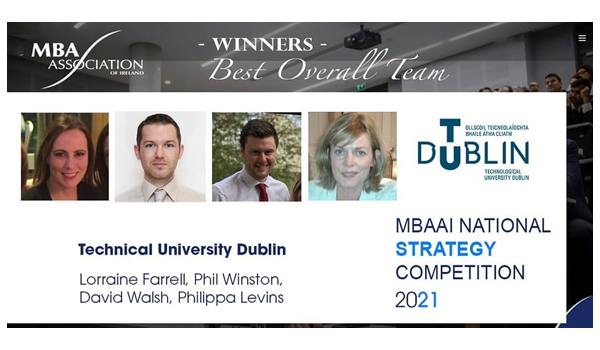 A team of four students on the Executive MBA programme at TU Dublin has won the prestigious national MBA case study competition.
This annual competition is hosted by the MBA Association of Ireland (MBAAI). This year's competition, held virtually on Saturday, 19 June, was based around a Disney case study. The judging panel was led by an internationally recognized thought-leader, consultant and keynote speaker on the topics of business strategy, growth, and transformation - Kaihan Krippendorff. The TU Dublin team competed against teams from across Ireland.
The TU Dublin MBA team - Lorraine Farrell, Phil Winston, Philippa Levins and David Walsh were prepared in advance by their coach Dr Eoghan O'Grady and MBA Programme Strategy lecturers Dr Pat Kenny and Dr Donal O'Brien.
Michael Bulman, President of the MBA Association of Ireland, said, "This annual competition is a pressure cooker environment to test the mettle of any business student or practitioner and put the learnings from the MBA programme into practice. The 2021 virtual event was again a close-run affair, with a higher level of participation than in previous years. The event showcases the incisive analysis, strategic thinking and ability to operate collectively, which are the hallmarks of the MBA graduate. Sincerest congratulations to TU Dublin, who demonstrated these qualities very well on the day."
Team member David Walsh described the competition "As an incredible experience" and that "the case was one with many challenging issues. I was lucky to have an incredible team with many different areas of expertise which meant we could draw on each other's experiences solving the case." Fellow team member Philippa Levins added, "The effort and time put into the competition were 100 per cent worthwhile. The sense of achievement feels totally special after 18 months of studying online. We are also delighted to give something back to the University."
Commenting on the win, TU Dublin coach Dr Eoghan O'Grady noted, "We are delighted to win the extremely challenging MBAAI national strategy competition this year. Participating in such competitions is key to our signature pedagogy - case study and gives the students on our AMBA-accredited Executive MBA an opportunity to challenge themselves against some of the best MBA students in Ireland in a high-pressure environment. It is always an excellent learning experience. Thank you to the MBA Association of Ireland for continuing to organise this first-class annual competition. And thanks too, of course to our fantastic team for representing our MBA programme with such distinction".
Learn more about the TU Dublin MBA on our website, or contact Maria Fitzgerald, Programme Manager, to arrange a personal online meeting at Maria.K.Fitzgerald@TUDublin.ie.