TU Dublin Raises €106,219 for Irish Cancer Society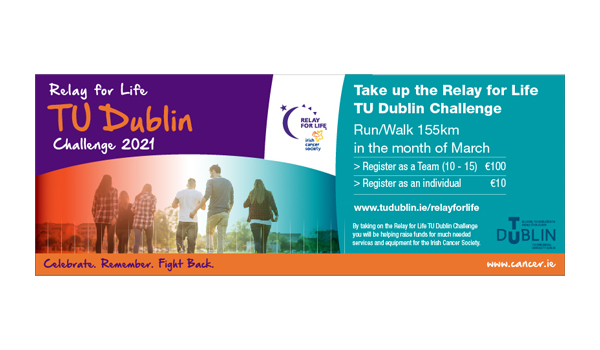 Over March, TU Dublin students and staff have come together to raise an incredible €106,219 for the Irish Cancer Society.
The Irish Cancer Society's Relay For Life campaign was a fundraising event that brings communities together to celebrate the lives of cancer survivors, to remember those lost to the disease, and to fight back by increasing our knowledge of cancer and by raising money to fund life-saving cancer research and free services for cancer patients and their loved ones.
Members of the TU Dublin community were challenged to walk, run, cycle or swim 155km throughout March, with thousands participating in the event with colleagues, family and friends. The Relay for Life challenge culminated on Wednesday, 31 March, with a moving ceremony in St. Laurence's Church in Grangegorman.
Congratulations to everyone that contributed to the success of the campaign, and thank you to all that donated to this hugely important cause.