TU Dublin Students Represent Ireland at Red Bull Basement Global Final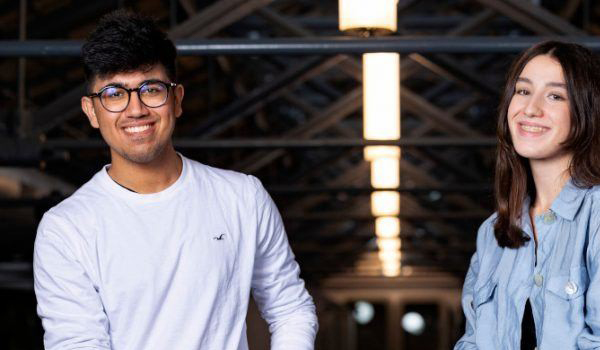 Technological University Dublin student innovators Harsh Chandra (BSc Computer Science- International) and Clara Fargas (BSc Business & Management) were selected to represent Ireland at the 2021 Red Bull Basement Global Final with their career guidance solution CareersXP.
In this global program, students are empowered to showcase their innovative ideas, using technology to make tomorrow's world a better place. Ireland's winning entry, Harsh and Clara's online platform CareersXP is a game-changing career guidance solution that aims at giving students more clarity when choosing their college course. Inspired by the issue of college dropout rates and the lack of solutions already available, CareersXP provides hands-on experience through short and simple activities across a range of different courses, which aims to provide valuable insight to help students make a better-informed choice.
Computer Science student Harsh commented on the project; "We aim to create a platform that helps sixth-year students to overcome the fatigue and pressure of choosing a college course and a career. Many college freshers are led to make uninformed decisions, leading to poor performance, stress, and dropouts. With CareersXP, we plan to tackle this problem with a practical approach by allowing students to 'try courses before applying to them'. This creates a unique & personal experience helping them to gain insight and narrow their search to find the right fit for them."
In December, Harsh and Clara will now receive support and mentorship to develop their platform further ahead of the Global Final in Turkey. Together with 44 other country finalist teams, they will pitch to a panel of globally acclaimed thought leaders, entrepreneurs and tech and innovation experts and visionaries.
Business student Clara commented on the Red Bull Basement experience; "It is a huge opportunity to be selected to represent Ireland and TUD at the Red Bull Basement Final, and we are so excited to be able to travel to Turkey in December. The mentorship, work-space and support will be a real leg up for the project as we continue to work on the prototype ahead of the Final. This is a real game-changer for us as students, and for our project, we look forward to great things to come."
Harsh and Clara have been working on CareersXP as part of TU Dublin Enactus social enterprise society. Enactus is the world's largest experiential learning platform dedicated to creating a better world while developing the next generation of entrepreneurial leaders and social innovators. The Enactus network of global business, academic and student leaders are unified by our vision—to create a better, more sustainable world.
Enactus connects 35 countries, 1,8000 university programmes, over 72,000 students and 550 corporate partners. Speaking on behalf of TU Dublin Enactus faculty advisors, Dr Lucia Walsh said: 'We are very proud of Harsh and Clara's success. It's so inspiring to see the Enactus students' innovative and creative solutions to social and environmental issues. Clara and Harsh have re-energised the TU Dublin Enactus society and encouraged many more students to join the team this year. The faculty and external business mentors strongly support the Enactus Society at TU Dublin, recently receiving funding from the Growth Hub. This project aims to create a learning environment for students at all levels that will stimulate idea generation and exploration.'
Another success for TU Dublin's Enactus students from BSc Product Design Dan O'Brien, Fiachra Durkan, Alexander Fives and Mati Remi as their Enliven Project won the pitching contest and €200 in seed funding from Enactus Ireland! The Enliven Project exposes artists from disadvantaged areas by creating beautiful artwork commissions in the cracks and deteriorated structures around Dublin city.