TU Dublin Welcome Ministers Harris and Donohoe to Grangegorman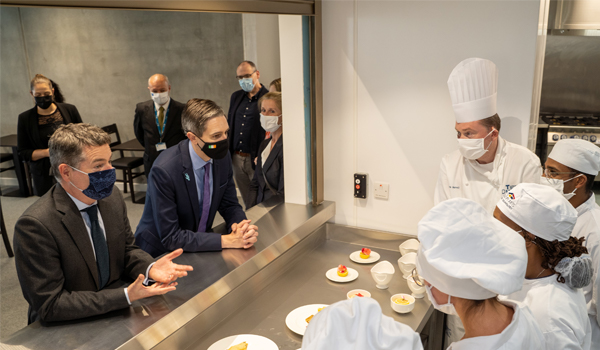 On Thursday, Minister for Further and Higher Education, Research, Innovation and Science Simon Harris TD and Minister for Finance Paschal Donohoe TD met TU Dublin students and staff in the Central Quad in Grangegorman.
The new Quad is the largest building in Grangegorman at 36,000m2. The Central Quad has large lecture spaces, including a 250-seater lecture theatre, training restaurants, specialist learning spaces, including wet and dry labs, workshops, kitchens and general teaching spaces.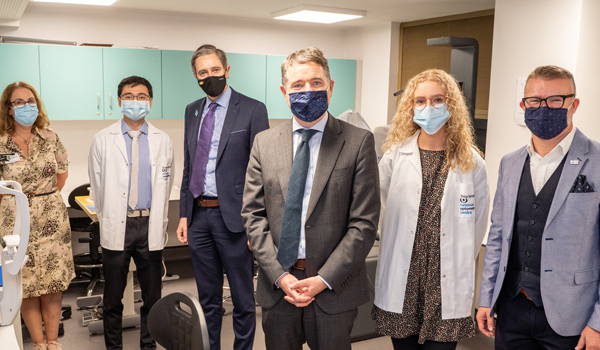 Siobhan McDonald, Andrei Toribio, Minister Simon Harris, Minister Paschal Donohoe, Shona Hendrick and Declan Hovenden
Speaking today, Minister Harris said:
"Over the course of the past few years, I watched Grangegorman grow to become our newest and biggest higher education campus.
"Today, we are welcoming students and staff onto the new part of this incredible campus. It will also give us a chance to discuss how they have navigated the challenges of the past 18 months.
"This campus will undoubtedly offer students exceptional facilities, but I am also excited about what it will deliver in both social, cultural and economic terms to the entire Grangegorman area."
"I am delighted to join Minister Harris in Dublin Central today at the beautiful campus of TU Dublin in Grangegorman. It marks an important milestone in the development of this part of Dublin, a day which so many have worked towards as we welcome over 10,000 students and staff here.
"Grangegorman is an important development under Project Ireland 2040, and the transformation of the 73-acre site of the former St Brendan's Hospital into a state-of-the-art higher education campus is one of the most significant social and urban renewal projects in Dublin's inner city."
The East Quad offers a further 16,000m2 of teaching and performance space and, together with the Central Quad, will allow the return of 10,000 students and 600 staff this month.
President of TU Dublin, Professor David FitzPatrick, said:
"Walking through the campus today, it was uplifting to see a flurry of activity as the University prepares to welcome new and returning students to our five facilities across Dublin for the new academic year.
"But, of course, we have also reached an incredible milestone with the impending arrival of 10,000 students to the East Quad and Central Quad on our flagship campus in Grangegorman in less than a week. Across all of our campuses, TU Dublin provides a welcoming learning environment, which supports our mission to ignite the imagination of our students, helping them reach their full potential.
"The Grangegorman campus, which is the largest single education project under Project Ireland 2040, is the result of many years of hard work, and I look forward to celebrating this remarkable achievement with staff – both past and present – students, alumni, academic and industry partners, public representatives and the local community later in the academic year."

During the visit, Minister Harris and Minister Donohoe
Ger Casey, Chief Executive Officer for the Grangegorman Development Agency (GDA), added:
"The Grangegorman development represents a major transformation of this historic part of the city.
"To welcome 10,000 TU Dublin students to Grangegorman this September marks a hugely significant milestone for the project and creates a new chapter in Grangegorman's history. Seeing the new buildings come alive with activity is a great feeling and I would like to acknowledge the immense work from all involved in making this happen."