TU Dublin win Goodbody Stockbroker Irish Universities Investment Fund Competition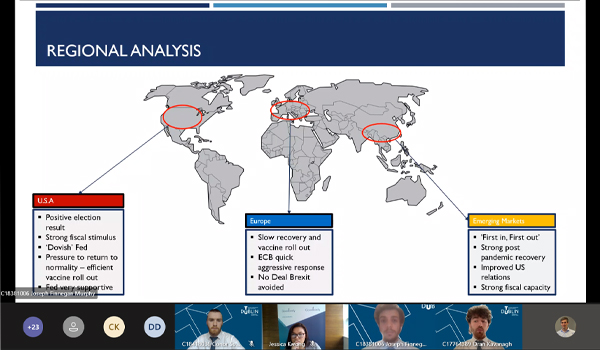 TU Dublin School of Accounting & Finance follows up their CFA Research Challenge victory by becoming Goodbody Student Managed Fund National champions for 2021.
Students taking an Investment and Portfolio module are members of the TC Capital Fund led by Joseph Finnegan Murphy and Mentor Seán O'Reilly, Assistant Head of School.
They based their investment strategy on a top-down approach where they analysed the global macro-economic environment and selected geographies and sectors that looked set to outperform others. The student analysts then selected stocks to invest in. During the duration of the competition, the TC Capital fund posted a return of 9.22%.
On Thursday, 15 April, Joseph Finnegan Murphy, Eoghan MacNamee, Oran Kavanagh, Charlie Donnelly, Benjamin Pentony Timmons, Conor Lowen and Patrick Prendergast (drawn from the Economics & Finance and the Accounting & Finance programmes based in Aungier Street) presented their portfolio to expert investment managers including Hedge Fund managers from Chicago and London. The expert panel were impressed with the technical knowledge of the team and their professionalism. TU Dublin was crowned overall winners defeating UCC in the final.
Founder of the Student Managed Fund, Seán O'Reilly, said, "It is another fantastic achievement for the students within the School of Accounting & Finance to win this prestigious competition. We want to thank Goodbody for organising an excellent, interactive and engaging competition, which of course, had to take place fully online in 2020/2021. A special mention must go to the lecturer of the 'Investment and Portfolio Management' module, Ruth O'Leary, who gave the students a very real to life and authentic learning experience and was instrumental in preparing all of the TU Dublin teams for the final event.
We are delighted to add to the success of winning the CFA Research Challenge, and this victory really puts TU Dublin on the map as being a leader in Finance education in Ireland and becoming the first University to hold both the Goodbody Student Managed Fund and CFA Research Challenge titles in the same year."
Head of the Student Managed Fund, final year Economics & Finance student Joseph Finnegan Murphy said, "we are over the moon to have won this fantastic competition sponsored by Goodbody. Much work has gone into this competition, and it is a great reward for our own hard work. It is one of the best experiences I have had during college, and the real-life and authentic learning is incredible. The team thanks to our Mentor Seán O'Reilly and our lecturers for a great learning experience".
TU Dublin Student Managed Fund will be presenting Pieta House with the prize winnings of €5,000 on Thursday 29th April at the end of year virtual event.
Well done to all involved.
TC Capital Fund Members
Joseph Finnegan Murphy - Fund Head
Eoghan MacNamee - Chief Investment Officer
Oran Kavanagh - Chief Macroeconomist
Charlie Donnelly - Chief Risk Officer
Patrick Prendergast - Analyst (Technology)
Conor Lowen - Analyst (Miscellaneous)
Benjamin Pentony Simmons - Analyst (Utilities)
Anne Marie Keane - Analyst (Materials & Industrials)
Barry Bruce - Analyst (Healthcare)
Ciarán Darcy - Analyst (Healthcare)
Conor Somerville - Analyst (Utilities)
Cronan Ryan - Analyst (Energy)
Harry Harrison - Analyst (Energy)
Matthew Cotter - Analyst (Consumer Staples/Consumer Discretionary)
Nicholas Kennedy - Analyst (Technology)
Thomas Croarkin - Analyst (Consumer Staples/Consumer Discretionary)
Mubarak Akorede - Analyst (Communications)