TU Dublin Wins CFA Research Challenge Final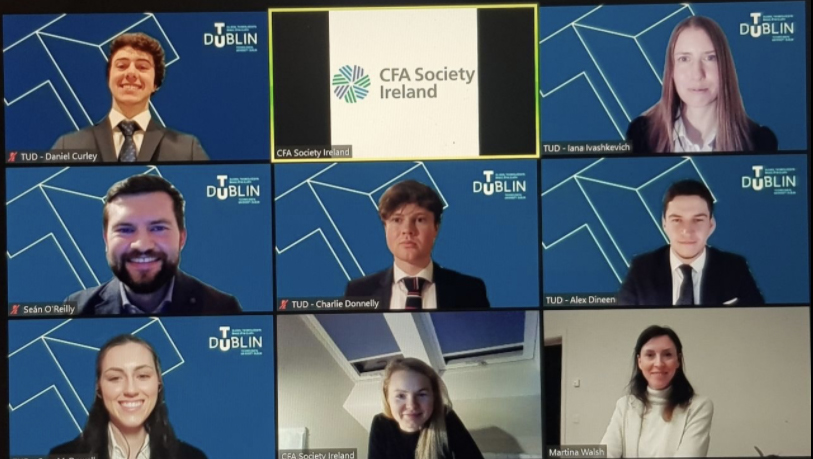 TU Dublin has won the Irish round of the Global CFA Research Challenge following Thursday's final against Trinity College Dublin.
The TU Dublin team will now represent Ireland in the EMEA finals of the competition organised by the Chartered Financial Analyst (CFA).
TU Dublin team mentor Seán O'Reilly, Assistant Head of School of Accounting & Finance, said, "In just our second year in the competition, it is a tremendous achievement for the TU Dublin students to emerge as winners from the eight competing Irish universities. Building on the success of the TU student-managed fund over the past few years, the next step for us was to compete in the Prestigious Global CFA Finance Research Challenge competition, and this achievement really puts TU Dublin Finance programmes on the map."
The TU Dublin team comprised of captain Cara McDowell (BSc. Property Economics), Iana Ivashkevich (PG Dip Accounting), Alex Dineen (MSc. Finance), Charlie Donnelly (BSc. Economics & Finance) and Daniel Curley (BSc. Economics & Finance). The students developed an in-depth analysis on Yew Grove REIT plc, which they presented 'live' to a panel of expert judges, all CFA qualified financial services leaders. The CEO of Yew Grove REIT plc, Jonathan Laredo, was also on the Zoom event watching with keen interest.
Seán O'Reilly commented, "while this year it will not be possible to travel overseas, our team are delighted to represent Ireland in the EMEA finals. I cannot commend the students highly enough for their technical skill, work rate and professionalism".
Team captain Cara McDowell says, "We really enjoyed the whole experience despite never meeting each other in person; we worked really well together as a team. It also shows the benefits of inter-disciplinary courses working together, which provided us with an ability to incorporate the theory we learn in the classroom into a very real-to-life project. CFA Ireland and Yew Grove provided great support to us during our preparation and certainly gave us a very authentic learning experience. A huge thank you to our academic and industry mentors who went above and beyond for us in this process. We are really looking forward to representing Ireland and TU Dublin in the next stage of the competition".
TU Dublin will now represent Ireland in the EMEA final, which will take place remotely in April- we wish them the best of luck!