TU Dublin's Sean Waddilove Flying the Flag for TU Dublin in Tokyo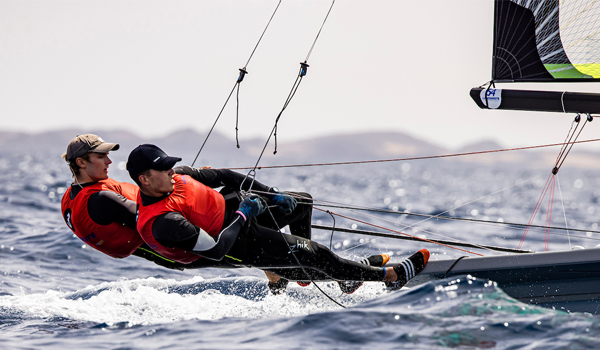 TU Dublin student 49er sailor, Sean Waddilove, is busy preparing with teammate Robert Dickson for the Summer Olympic games commencing in Tokyo this week. However, we were lucky to have a quick chat with him before he left for Japan.
Unusually for a sailing enthusiast, Sean doesn't come from a sailing family. "Many people get into sailing as it goes back generations in their family, but not in my case. However, my parents thought I might enjoy it, so they signed me up to a taster course with Skerries Sailing club when I was 7 or 8, and I have been sailing most of my life now."
Sean secured a place in the Olympics with teammate Robert Dickson at the 49er Olympic Qualifier in the Lanzarote International Regatta with a race to spare in March 2021. The 49er is a two-handed skiff sailing dinghy. Robert is responsible for the helm making many tactical decisions, as well as steering. Sean is responsible for trimming the main sail to make sure the boat is as fast as possible. He manages the spinnaker also which is an extra sail which gives more speed on the downwind.
Tokyo is Sean's first Olympics, having represented Ireland for the first time on the U12 Optimist Squad at the UK Nationals in 2009. He has already travelled to Japan taking part in an Olympic test event in 2019 and has some idea of what to expect. "Japan will be humid in the summer, so in anticipation, we are doing a good bit of heat training on the bike in a heat chamber to acclimatise. We don't have a super strict diet, but as a duo, our weight can't go over 160kgs, so we need to keep an eye on that. Our diet is pretty standard for athletes, lots of carbs and proteins, and on race days, we make sure we take in what we burn."
Sean explains one of the major challenges of a sporting career in sailing is how much time he spends abroad. "We travel a lot because sailing is outdoors, and the winters are too cold for water sports, so we have to go to Portugal and Mallorca to get more time on the water. When you spend so much time away, you really begin to value your time off at home; we spend 80% of the year travelling for training and races."
Speaking about a typical training day, Sean says that he spends two to three hours every day on the water when away on a training block. Three days a week, he will go to the gym, lifting weights or doing aerobic fitness, for example, an 80 to 160 km bike improving fitness and stamina so he can spend longer periods sailing.
Sean cites winning the 49er Under–23 Junior World title in Marseille as a particular career highlight, and in 2019 at their third-ever appearance at a senior event, Sean and Robert qualified for the 49er World Championships Gold fleet. Their latest success was placing third at the 49er Olympic Qualifying Regatta in Lanzarote. But as Sean explains, sailing is a late development sport, and at the young age of 23, there is still plenty of time for bigger and better wins!
This month, Sean Waddilove (Skerries Sailing Club) and Robert Dickson (Howth Yacht Club) will compete in the Men's 49er event in Japan. You can follow Sean's progress on Instagram.
Sean Waddilove's sporting achievements are supported by the Elite Athlete Support Programme at TU Dublin.