Want to win €15,000 for your great idea?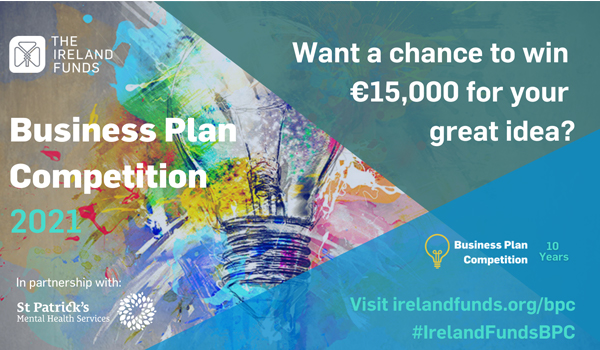 Have a great idea for a new product or service? Ireland Funds want to hear from you! Convince them that your business idea is the next big thing and you will receive support to develop it from concept to pitch.
The Ireland Funds Business Plan Competition, now in its 10th year, is a pre-accelerator programme designed to help Ireland's early-stage, student entrepreneurs bring their idea from concept to pitch. Applications will be accepted until midnight on Tuesday, March 16, 2021.
Ten business ideas will then be selected to receive mentoring and support through a series of workshops during April, May and June, with the opportunity to compete for €27,000 in prize money and other supports.
Who is eligible?
The Ireland Funds Business Plan Competition is open to undergraduates, post-graduates, and recent graduates (two years or less), resident in Northern Ireland or the Republic of Ireland, at the pre-investment stage.
Specifically, they are looking for three things:
An individual or a team
Global scalability potential
Categories including software, hardware, food, deep-tech, AgTech, and internationally traded services.
Prizes
First Prize
€15,000 cash prize and 1-1 mentoring with Bill McKiernan, Founder of CyberSource Corporation and President of WSM Capital LLC.
Runner-up prizes
€7,000 cash prize (first runner-up)
€2,000 cash prize (second runner-up)
Mental Health Innovation Award
Kindly supported by St. Patrick's Mental Health Services (SPHMS).
€3,000 cash prize for the best mental health solution that addresses a COVID-related challenge.
They are looking for innovative technology ideas that can support our nation's mental health, which is suffering greatly right now due to the COVID-19 Pandemic. Now more than ever, we need novel solutions to deliver mental health services and provide citizens and patients with mental health self-management tools.
Read more about the competition here.