What's actually in the Covid-19 vaccine?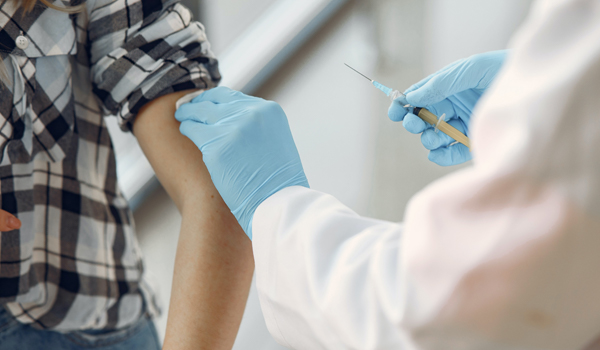 Dr Ryan Craig, an Assistant Lecturer in Organic Chemistry at the School of Chemical & Pharmaceutical Sciences at TU Dublin, has written a guide to the full list of ingredients in the Pfizer/BioNTech vaccine and what each one does.
At first glance, the chemical names of the vaccine components do sound rather ominous, so let's break them down one by one.
(1) mRNA
The most important ingredient is mRNA (messenger ribonucleic acid). We can view it as a messenger delivering a message (genetic sequence of the spike protein of SARS-CoV-2) to our immune cells, thereby eliciting an immune response.
What's extraordinary about mRNA vaccines is that they contain no actual part of the virus. It's only the instructions on making the spike protein so you can't get infected with Covid from the vaccine. mRNA is only a temporary messenger, so it degrades shortly after generating the protein, and human cells definitely cannot convert mRNA to DNA, meaning that the only thing that lasts is the protective immune response.
From RTÉ One's Six One News, report on staff at a Dublin maternity hospital getting Covid-19 vaccine.
(2) Lipids (fats)
· 4-hydroxybutyl)azanediyl)bis(hexane-6,1-diyl)bis(2- hexyldecanoate)
· 2-[(polyethylene glycol)-2000]-N,N-ditetradecylacetamide (ALC-0159)
· 1,2-distearoyl-snglycero-3-phosphocholine (DPSC)
· Cholesterol
Yes, these names look terrifying, but they are just fats. Their role is to protect the mRNA by forming lipid nanoparticles to encase the mRNA (liposomes). These help the RNA get through the oily membrane on the outside of all our cells.
Some people are worried about the potential allergic response to the Covid vaccine. While the risks of this are very low, particularly in people who have never had an allergy before, one of the only components likely to do this is PEG (second lipid on the list). PEG occasionally causes an allergic reaction. Fortunately, the healthcare workers who deliver vaccines receive training to treat allergies, which is a key part of the delivery of any vaccine.
From RTÉ Radio 1's This Week, HSE chief executive Paul Reid on the vaccine rollout
(3) Salts
· Potassium chloride
· Monobasic potassium phosphate
· Sodium chloride
· Basic sodium phosphate dihydrate
Almost anyone reading this will have consumed all of these at some stage in their life already. These are often added to improve the taste, texture, or storage. Their function in the vaccine is to maintain the pH (or how acidic the vaccine is) as close to that of a person's body. You'll understand how important that is if you've ever gotten vinegar into a cut.
(4) Sucrose
This is a type of sugar found in most sugary foods, drinks and many fruits. Its role in the vaccine is to keep it stable at sub-zero temperatures - i.e., it protects the vaccine during freezing which is necessary for its storage.
From RTÉ Radio 1's Drivetime, Dr Gabriel Scally from the University of Bristol and Prof Karina Butler from the National Immunisation Advisory Committee on Pfizer's Covid-19 vaccine.
(5) Saline solution
Before you receive your injection, the vaccine is mixed with water containing sodium chloride (table salt). The purpose of this is to ensure that the injection matches the salt content of the blood.
That's it, the full list of ingredients in the Pfizer/BioNTech vaccine.
Has there been enough testing?
Phase III clinical trials are the last phase of trials before a drug or vaccine can be taken to market. It is required to be on large patient groups, namely 300 to 3,000 people. The phase III clinical trials for the Pfizer/BioNTech vaccine involved 43,000 participants.
However, some groups on which the data for vaccine efficacy and safety still remain incomplete. More research needs to be carried out for children and pregnant women. The vaccine hasn't been tested on this cohort to date, and there isn't enough data on children aged 12 to 15. However, trials on children are planned or ongoing by a number of manufacturers.
Pregnancy is not necessarily a reason not to get vaccinated. While the data has not been produced in the trials to date, many women, particularly frontline healthcare workers feel the risks of them getting sick from Covid, is much greater than the risks posed by the vaccine.
Has this vaccine been rushed?
People are expressing concern at the speed that this vaccine has been developed compared to the usual time it takes (8 months vs 10 years). Fortunately, the technology used to create these vaccines has been around for thirty years and was developed in response to threats from SARS, influenza and Zika.
This vaccine has not had to deal with the huge barriers usually faced when trying to get a drug or vaccine to market. Due to the exponential spread of this virus and the catastrophic illness, it can cause, huge numbers of people were available to participate in trials. Thanks to these people, alongside scientists and clinicians who have learned from previous epidemics, a vaccine could be produced both quickly and safely in record time. We can only hope the rollout of this vaccine is treated with similar urgency, and we can start 2021 knowing that Covid-19's days are numbered.
What about reports of other vaccines causing autism?
Vaccines do not cause autism. Researchers have not found a single connection between autism and vaccines. The initial study that started the scare in the 1990s has been retracted, and 25 subsequent studies have also found no connection.
This vaccine is also preservative-free. Thimerosal, which contains mercury to kill any bacteria which might contaminate a vial, has been used previously in other vaccines and was also incorrectly linked to autism rates among children. The US Centre for Disease Control says thimerosal is safe but, despite that, its use is being phased out. There is no thimerosal—or any other preservative—in the Pfizer/BioNTech vaccine.
Dr Ryan Craig is an Assistant Lecturer in Organic Chemistry at the School of Chemical & Pharmaceutical Sciences at TU Dublin and this article was originally published by RTÉ Brainstorm.