Where the music takes us…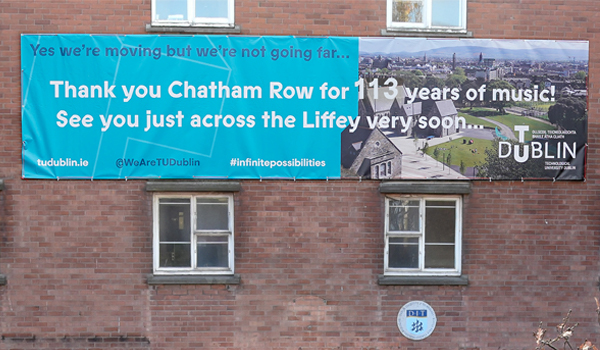 Musicians and music lovers have a new destination in Dublin now that the TU Dublin Conservatoire has its own home at last!
113 years ago, the then Municipal School of Music began making music education available to Dublin's citizens in what was the former fire station in Chatham Row, off Grafton Street. The activity quickly outgrew the space available; and other buildings were added in Adelaide Road and later Rathmines to cope with the demand for individual tuition while ensembles rehearsed and performed in the Gleeson Hall, Kevin Street.
Now the Conservatoire has closed the doors in Chatham Row, and Rathmines and an army of pianos, percussion and wind instruments have made their way just across the Liffey to the TU Dublin Grangegorman campus. In addition to new teaching rooms, the sparkling brass-clad East Quad boasts a magnificent 400-seat Concert Hall, 80-seat Recital Room, Black Box theatre and a Dance Studio. Students of music, from 5 years of age to 85, and drama degree students will soon be able to enjoy facilities that exceed anything they have had before or anything available elsewhere in the city.
Dr. Orla McDonagh, Head of the Conservatoire, said 01 February 2021 will be a red-letter day for Dublin's performing arts. "The incredible facilities that are now available to our students will make an enormous difference to their development as artists and professional performers. We look forward to presenting a year-round calendar of music and theatre performances and to welcoming our loyal supporters and new audiences to enjoy the work of our students and staff. Between the Conservatoire and our colleagues in the TU Dublin School of Creative Arts and School of Media, the East Quad at Grangegorman is about to become Dublin City's newest and most innovative cultural centre."
The TU Dublin campus is easily accessed by LUAS Green Line (Broadstone stop); by LUAS Red Line (Smithfield stop) and by Dublin Bus (46A, 39, 39A, 16, 83). It is a ten-minute walk from the Liffey Quays.
Watch a short video introducing the East Quad on YouTube.