Make the Most of Semester 2
Forgotten all the amazing things the TU Dublin Clubs and Societies have to offer? Well, fortunately, the Refreshers Festival is taking place from Monday 30 January - Thursday 02 February. Each day will be filled with events held by the different clubs and societies from, Grangegorman, Aungier Street, Bolton Street, and Tallaght campuses. We will be running a roadshow so come see us at a campus near you!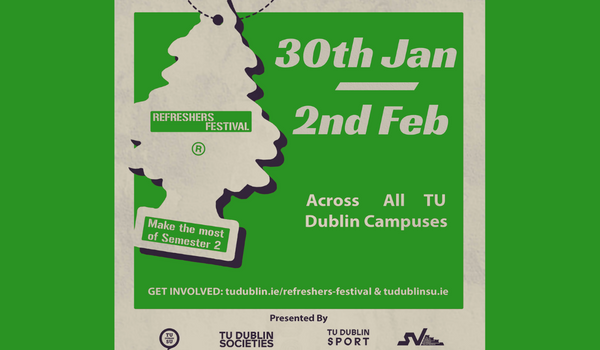 Monday 30 January - Bolton Street, Common Area
Tuesday 31 January - Aungier Street, Foyer
Wednesday 01 February - Central Quad, Foyer
Thursday 02 February - East Quad, Foyer
12:00 - 14:00 every day!
We will also be running 3 events next week for you to take part in for FREE!! If you're new Dublin, we will be running an Intro to Dublin walking tour. If you're a true crime buff, we will be running a True Crime walking tour. And if arts and crafts are more your vibe, we will be running a clay workshop too, Make your own Boob Clay Pots. Follow our social for the registration links!
We've got a wide variety of Clubs & Societies (Approx 150!) to suit any student so whether you just want to try something out for one semester or you're a seasoned athlete, come and see what we have to offer. It's still possible to join clubs and societies even if you didn't manage to fit any in your busy schedule during the first semester so come along and give something a go!
Remember Refreshers Festival is not just for new students. The week is designed to kick off the new year for all students in TU Dublin, so if you fancy joining some new sports clubs or societies during Refresher' Festival, or if are keen to get your dancing shoes on before the Springtime gets off to a start, make sure to come along to an event and join up using the activities portal. More importantly, make the most of semester 2!
Grangegorman, Aungier Street, and Bolton Street Campuses:
We have so much on offer between Clubs, Societies, and Student Volunteering. If you have an hour a week or 5 hours a week, we have something you can get involved with. Be sure to check out our Instagram accounts for the most up-to-date information, or find us in Lower House on the Grangegorman Campus.
Tallaght Campus:
We have many sports club taster sessions organised for you. Please visit linktr.ee/ClubsandSocs for contact details, club training times, Clubs and Societies' Instagram accounts, and registration details for our many and varied Clubs and Societies.
There are lots of free events and taster sessions happening. Keep up to date on our Instagram pages:
TU Dublin students can join any of the 150+ clubs/societies for free online. The clubs and societies are being innovative and adapting to the current restrictions. So join today for updates, to manage your membership online and their calendar online and pre-book your place.
Register yourself to set up your activities portal account (make sure to use your @mytudublin.ie email address)
Look at the list of Clubs/Societies and click to join for free
At TU Dublin, you have the opportunity to apply to set up a brand new society to pursue your interests and see your ideas come alive. Students run societies for students with support by professional staff about advice and funding.
5 Steps to Set Up a Club or Society:
Fill in the relevant Application Form: New Society Application Form | New Club Application Form
You will get feedback on the form within 10 days
Get 20 students to fill in the support form (which we will email to you)
Once given provisional approval, decide on an email address that our team can set up for you
Get planning your events/activities!