TEN TOP TIPS TO GET YOU CAREER READY!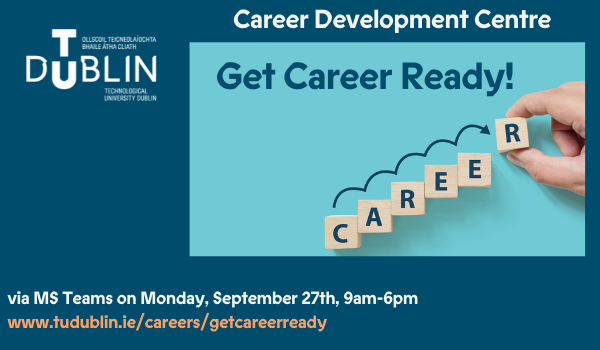 Welcome back to TU Dublin. Although it's only the beginning of a new academic year and next summer seems a long way off, there are actions you can take now to make sure you get ahead in your career.
Here are 10 top tips to get you started:
Have a think about your next steps. Do you want to find a graduate job, apply for a graduate programme, gain relevant experience over the summer, travel abroad, do a postgrad or set up your own business? The opportunities open to you are endless.
If you are unsure about career areas that you might like, try some career-decision making exercises that will help you explore your interests, values, personality and skills and match you to careers that would suit you.
Check out My Qualification. What Next? document on our website to explore career options and jobhunting resources related to your degree.
Make sure your CV is up to scratch, set up a LinkedIn Profile and brush up on interview skills.
Familiarise yourself with advertised and unadvertised jobhunting strategies. Register/set up job alerts for immediate roles, graduate programmes, internships and summer opportunities advertised on our vacancy bulletin tudublin.ie/jobscene and on www.gradireland.com. Also, keep an eye on our graduate programmes list at https://tinyurl.com/Irish-Grad-Programmes. Finally, be aware of early deadlines for graduate programmes (often early in Semester One).
Go along to Careers Fairs and Employer Events coming up in October and throughout the year.
Start networking with your industry. Attend events, connect with professional bodies, join online discussion groups, reach out to TU Dublin alumni, talk to people in roles that interest you. Ask for shadowing or work experience if you can.
Check out career websites for excellent careers Information: tudublin.ie/careers, www.gradireland.com, www.careersportal.ie, www.prospects.ac.uk, www.targetjobs.co.uk
Attend TU Dublin Career Development Centre workshops and events on a wide range of career topics to get the support you need.
Get in touch with the Career Development Centre. We are happy to help!
Want to hear more join our Get Career Ready event all day on Monday, 27 September.
For full career resources and contact details for your Career Coach, go to www.tudublin.ie/careers