TU Dublin Marketing Students Win Prestigious International Awards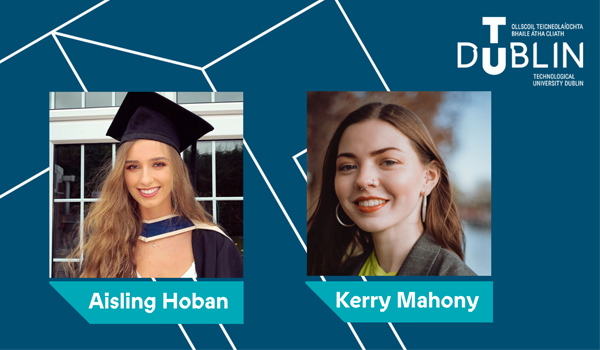 Aisling Hoban, a BSc Marketing student from Technological University Dublin, has won a European Institute for Commercial Communications Education (edcom) award for her final year thesis.
The competition rewards the best Bachelor and Master theses on advertising or commercial communications among edcom member schools with a €400 cash prize. Following 2 rounds of rigorous judging, the jurors decided on the papers which stood out the most. In the Bachelor category, Aisling Hoban, a BSc Marketing student based in Aungier Street, won her thesis 'A Study of Millennials' Susceptibility to Nostalgia During Times of Uncertainty: A Focus on Nostalgic Consumption During Covid-19.'
Speaking about her success, Aisling said, "Upon graduating during a pandemic with a first-class honours degree, I was over the moon to hear that my thesis was also awarded a first-class honours grade. As Covid-19 spread across the world, I capitalised on this as an opportunity to explore Millennials' susceptibility to nostalgia during such unprecedented times. The contextual opportunity fell on my lap, and I was really excited to be able to conduct some 'original' research on something that has never been done before! I wanted to get my research out there, so I entered the EACA graduation competition. I was so thrilled to hear I got through to the next round, let alone hearing that I won the competition! I am so proud of what I have achieved. It feels truly gratifying that my work has been recognised on a European level.
Working on my thesis from home was made all the more manageable with my amazing friends and family by my side. I want to express my gratitude for the amazing support I received from my supervisor Valerie Gannon and my year head Roger Sherlock at TU Dublin - a technological university adept at sculpting world-renowned academics."
Congratulating Aisling, Dr Valerie Ganon, Lecturer in Advertising, Technological University Dublin, said, "To achieve a 1st class honours degree and thesis grade is an excellent achievement, but to do that in the context of an overnight lockdown during a pandemic at the end of the academic year, is really on another level. Even more, Aisling had the insight and initiative to turn the lockdown into a context driving her research work. I am delighted that her thesis is getting recognition on a European level, and the wider audience it deserves".
In the Master category, the jurors also awarded second place to Kerry Mahony, an MSc Advertising student from TU Dublin, with her thesis entitled 'Glamour, Gloss, and the Girl Boss: A Discourse Analytical Study of Postfeminist Narratives as seen in Beauty Blog 'Into The Gloss'.
Commenting on her win, Kerry said, "I'm delighted to have placed second in the EACA Graduation Competition, and seeing my thesis ranked internationally was amazing. While there were many late nights of stress, writing my thesis on Glossier, a brand I'm so fascinated by, was such an enjoyable experience. I have no doubt the thesis will stand to me in the future as I continue my career in advertising."
Dr Olivia Freeman, Lecturer Communications & Consumer Behaviour, said, " Kerry demonstrates a rare combination of scholarship and flair in her thesis which tackles the pertinent area of womanhood in highly mediatised consumer landscapes. I am hugely pleased for Kerry that her exemplary work is being recognised at a European level and believe it will be of interest to many in the field of feminist research and the broader communications sphere. Congratulations, Kerry!"
Here you can access the winning papers' summaries and posters. For more information, please visit the competition's website.