TU Dublin Retiree Dr Tony Kiely Conferred with a PhD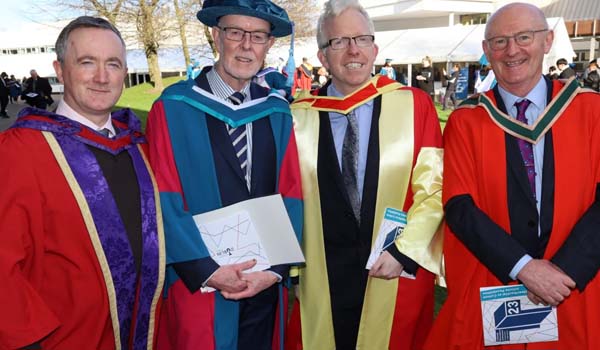 Dr Tony Kiely, a retired staff member of the School of Tourism and Hospitality Management at TU Dublin, was conferred with a PhD at the University's Spring Conferring Ceremonies on Thursday, 16 March 2023.
Dr Kiely lectured in the School of Tourism and Hospitality Management for many years and embarked on his PhD upon retirement in 2020. Tony's PhD by a prior publication entitled - The Interplay between the Ordinary and the Extraordinary in everyday life. Case studies from Ireland in transition - is a fascinating exploration of how Ireland has evolved over Tony's lifetime. The project was supervised by Dr Kevin Griffin and by Dr Eamon Maher.
Paying tribute to Dr Kiely, Chairperson of TU Dublin Governing Body, Dr Charles Larkin, said"
"I would like to highlight the conferring of a Doctor of Philosophy on Dr Tony Kiely, a recently retired lecturer from TU Dublin who proves that education is a lifelong process and that age is no barrier to achieving your goals. The dedication to scholarship and research illustrated by Dr Kiely is an inspiration to us all."