TU Dublin student chef wins twice at the World Young Chef competition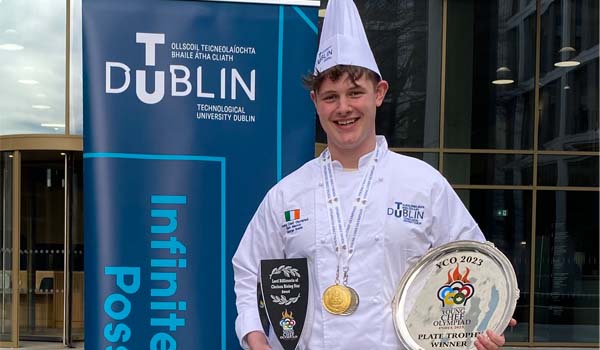 TU Dublin Culinary Arts student, Matthew Looram has won two major prizes while representing Ireland at the recent 9th World Young Chef Olympiad (YCO).
Matthew has been awarded the Young Chef Olympiad Plate Trophy and the Rising Star Award at the prestigious competition.
Held in India, student chefs from 56 countries competed over 5 days taking place in five of India's major cities. Matthew's mentor George Smith, Lecturer of Culinary Arts, explained that "an event like the World Young Chef Olympiad is a major opportunity to get recognition of your talent as a chef. "
Matthew stated that "it's a great honour to be awarded trophies and medals at this level", adding that culinary arts have opened a world of opportunities for him that he had never previously imagined.
Dr Denise O'Leary, Head of School Culinary Arts & Food Technology, TU Dublin, congratulated Matthew, stating, "We are very proud of Matthews's achievements. I look forward to following his career, especially as it is such an exciting time to become a chef.
Congratulations, Matthew – we expect great things!