TU Dublin Students Compete at NIBS International Case Competition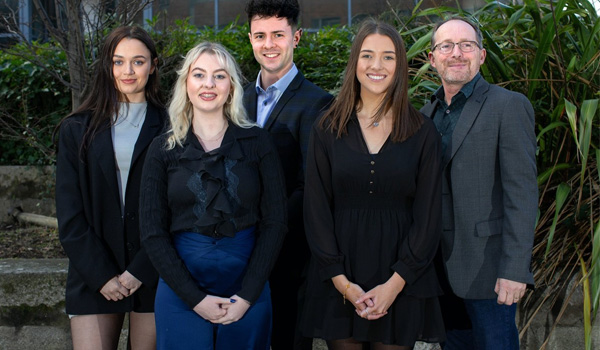 Springtime means one thing, time for the NIBS International Case Competition.
Now in its 27th year, the NIBS International Business Case competition brings together the finalists for a week of challenges, learning, networking, and experiences like no other. This competition, the longest-running of its type, is unique in that the location is truly global and is hosted in a different location every year.
This year, the first in-person competition for three years, is hosted by the University of Northern Iowa, Cedar Falls, Iowa, from 05 to 110 March. Sixteen teams from four continents will compete through the week, solving business problems, global and local.
TU Dublin Faculty of Business is a long-standing member of this global business network and has been competing in NIBS for two decades; this year's team are preparing intensively for the challenge ahead.
The team are Kathleen Grehan, Aoife Kennedy, Scott Dorian and Lauren Kavanagh, all final year B Sc Marketing students, coached by Roger Sherlock, School of Marketing and Entrepreneurship.
Follow the team and the competition on the web and Facebook.