TU Dublin Students Win Best in Game Mechanics Award at Games Fleadh 2023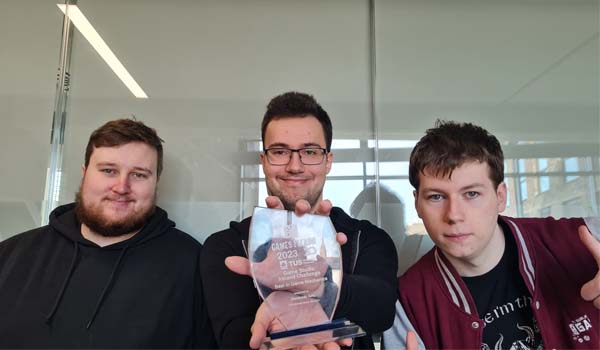 TU Dublin students have again achieved success at Games Fleadh (https://gamesfleadh.ie/), Ireland's most significant Digital Games Programming Festival, held at the Technological University of the Shannon Thurles Campus.
A panel of industry experts judged the competition, with Seamus Maher, Luka Mumelas, and Conor Mulgrew, who are final year students of the Bachelor of Arts (Honours) in Game Design, receiving the award for 'Best in Game Mechanics' for their game 'Shpuds in Space.' The students were supported by academics Basil Lim and Brian Duggan.
Commenting on their achievement, Dr Daniel McSweeney, Head of Creative Digital Media, Immersive Technology and Games in the School of Media, said:
"Yet again, we see continuing evidence of the high calibre of student talent emerging from our programme in Games Design. The rapidly growing games industry in Ireland will continue to benefit from the outstanding graduate talent being developed here at the TU Dublin School of Media. Congratulations to all the academic staff and students involved in this latest success."
Games Fleadh celebrated its 20th anniversary and recognised the country's brightest and best student game designers and developers. Those students in attendance were treated to a talk by gaming legend John Romero, who discussed his iconic game 'Doom' and its ground-breaking impact over the last 30 years. Additionally, BAFTA award-winning Game Designer Brenda Romero highlighted the vital role of women in technology. Representatives from EA Games and prominent game companies also spoke to students during the event.
Find out more about Games Design at TU Dublin by visiting TU Dublin's Open Day (Grangegorman Campus) on Saturday, 22 April 2023. Our open day is the first of many doors we'll open for you. Register here.