Our Blanchardstown campus is located on a 22.5-hectare campus within the IDA College Business and Technology Park on Blanchardstown Road North. The modern state of the art campus comprises of eight component buildings, with a total area of over 22,000 square metres. The campus is fully equipped with computer and electronic labs, lecture theatres with the latest audio-visual equipment and learning aids, fully equipped workshops, library, restaurants, sports hall, fitness centre, students' union area, automated banking facilities and parking for cars and bikes. Playing fields, which consist of a Gaelic and soccer pitch, are also located within the campus.
The campus directly serves the greater Blanchardstown area and the north and west of Dublin city and county. It also serves students from neighbouring counties of Meath, Kildare, Cavan, Louth, as well as further afield.
Campus Tour
3D Virtual Tour
Take a 3D virtual tour of our campus and explore our state-of-the-art facilities:
Campus Buildings
Aontas is a multi-function building comprising of three large lecture theatres, labs, classrooms and large group study area with computer and printing facilities. The National Learning Network are located in this building, along with the Estates Office, Human Resources, Finance and IT.
Connect facilitates a "one stop shop" approach to student administration, co-locating academic management with student services. The building houses the Student Information Desk, the Admissions Office, the Examinations Office, Student Services Academic Administration, Marketing & Development, offices of the Principal, Registrar, Heads of School and the Quality Assurance Office.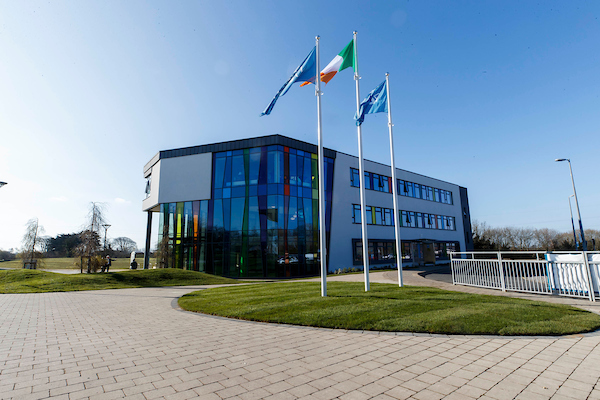 At the heart of the campus, Croí is a multi-purpose building comprising of a large sports hall, a student common room, college restaurant, and the Students' Union Office. Croí also facilitates the Student Health Centre, Counselling Services and a bank.
Doras is a large multi-purpose building, which facilitates a fully equipped Creative Digital Media studio and photography lab, and a specially designed Early Childhood Care and Education lab. It also houses workshops for Mechatronic and Computer Engineering and a fully equipped room for sporting activities. Doras also houses the caretaker's office.
Eolas facilitates the offices of academic staff and multi-purpose teaching space. Over three levels, this building consists of classrooms, labs and workshops.
Fios is the home of the campus Library, located on the first floor. The library's role is to provide a high quality information service, which meets the academic needs of all our patrons. Fios also facilitates the Careers Develmpment Office, a large lecture theatre, fully equipped digital media labs and a state of the art sound studio.
This building is a purpose-built facility for the teaching of our practice-based Horticulture courses. This state of the art building includes glasshouses, poly-tunnels, workshops and welfare facilities, as well as a range of outdoor practical work areas for fruit and vegetable production and sports turf management.
The Learning and Innovation Centre (LINC) is the campuses tangible link to the Business Community, providing facilities, training, consultancy and support for new start up's. The LINC is also home to the research activities on campus. The building has a modern suite of meeting rooms, training rooms, entrepreneurship labs and a large lecture theatre.
Spraoí is the campus's purpose-built sports facility consisting of a fully equipped a fully equipped fitness suite (185m²), changing facilities, an athletic therapy room, a sports science lab, all-weather and grass pitches, as well as academic teaching space. Membership of the gym is free to all registered students and staff. Opening hours vary throughout the year so we recommend you follow the Sports Office on social media to keep up to date.