Facilities
MiCRA has access to fully equipped research laboratories facilitating wet chemistry, sample preparation and electrochemical and spectroscopic analysis.
The centre has full access to wider laboratory and analytical facilities across TU Dublin including:
Chromatographic analysis: LC and GC MS, HS/SPME, SPE, GCMS, LCMS/PDA µHPLC, capillary electrophoresis
Surface Science: Scanning electron microscope (Jeol JSM 6390 LV), atomic force microscopy, scanning electrochemical microscopy, Ellipsometry, Langmuir Blodgett, contact angle and Drop shape analyser, STM, confocal microscopy
Spectroscopic: NMR Bruker 500 MHz and 300 MHz Spectrometers; Multipurpose FT-NIR analyser, Raman and UV/Vis, fluorescence spectroscopy, Q-TOF LC-MS, Thermogravimetry analysis and differential scanning calorimetry
Particle Size Analysis: Malvern Laser 2000 Rheometry
Elemental Analysis: Flame and Graphite Furnace Atomic Absorption Spectrometry
The Prototype and Fabrication Lab allows for the rapid design and testing of a wide variety of electrochemical and microfluidic systems. Laboratory equipment includes:
Potentiostat equipment and Multichannel Potentiostat suites with potentiostat/galvanostat/impedance capabilities to develop rapid sensors for various industry applications
CAD software for chip and electrode design
DEK 248 Screen printer: allowing for the patterning of electrodes, conductive tracks, and insulators
Formulating facilities: preparation/modification of printing inks
Dispenser for electrode modification and coating
Electrodes and Microfluidics design and manufacturing

Laser-cutter: fabrication of microfluidic channels
Sonic bonder: assembling microfluidic chips
Vastex D1 Series (D-100) Infrared Dryer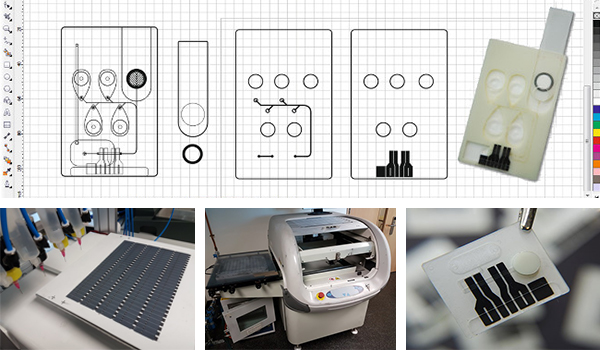 The Electrochemistry Innovation Lab is equipped with electrochemical workstations for electroanalytical investigations and testing the prototypes to develop sensors for various industry applications (advancement/validation of chemical & biosensor technologies).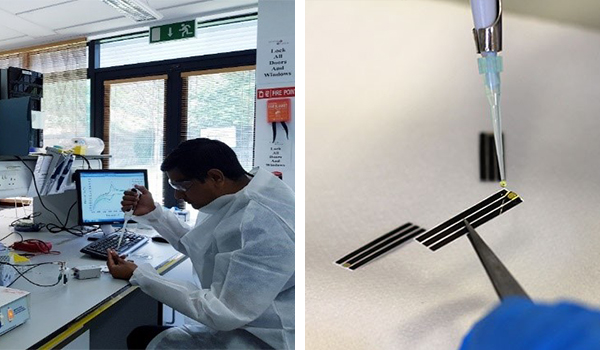 The microbiology laboratory at MiCRA Biodiagnostics is well equipped with facilities to handle Class I & II micro-organisms. Our laboratory equipment includes:
Biological Safety Cabinet (Class II)
Support Equipment (for the growth and preservation of micro-organisms in aerobic/anaerobic conditions)
CO2 Incubator, Anaerobic jars, Incubator shakers, –20°C and –80°C Freezers, Refrigerator
Electrochemical Workstations

Potentiostats (CHI 660C and 1200B)

UV-VIS Spectrophotometer
Optical Microscope
Support Instrumentation

Water Bath, Thermo-mixer, Balance, etc.
Autoclaves for Sterilization and Waste Disposal