Dr Eoin Langan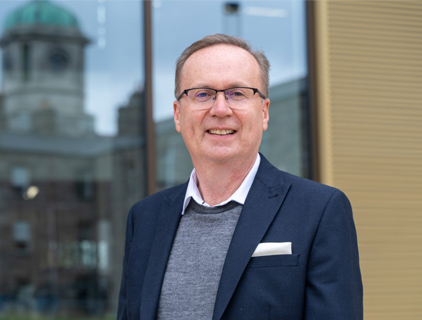 Dean, Faculty of Business
Email: dean.business@tudublin.ie
Tel: 01 220 6443
Academic Qualifications:
• PhD Education (Leadership), Dublin City University
• Masters of Science Information Technology in Education, University of Dublin, Trinity College
• Member of Chartered Institute of Management Accountants (CIMA)
Eoin's background is in accounting, finance and IT consulting prior to transitioning to a career in higher education. He joined TU Dublin in 2019 as Head of Accounting and Finance, City Campus. Prior to that he held a number of senior management posts including Dean of Business & Hospitality in Athlone IT. He brings extensive executive management experience in both industry and academia to the role of Dean. He brings an inclusive and open leadership style that encourages and promotes collaboration, incorporating opportunities for staff development with an emphasis on collegiality. He has a strong interest in innovation, entrepreneurship and technology within higher education. He is a former chair of the Irish Accounting and Finance Association (IAFA).
Eoin worked in London for 10 years as a senior finance manager for a number of multinational companies, including Lloyds TSB. On returning to Ireland in 2000, he was a senior project manager with an implementation partner for the business software company SAP. He worked almost exclusively for Elan Pharmaceuticals, including project managing the roll-out of SAP to many of its sites in the US. He has extensive international experience, having worked as the Asian region controller for Brink's Security in Australia and on SAP implementations across Europe.
Originally from Moycullen, Galway, Eoin is married with two daughters along with home-working companion Lola the dog and lives in Celbridge, Kildare. His interests include gardening, rugby and cycling.