About Grangegorman Histories
In the past 250 years, Grangegorman has been the site of a workhouse, a hospital and a prison, and now it is to be integrated into the city as a health and education campus. The buildings of Grangegorman stand as architectural monuments to that past and its complex histories. The Grangegorman Histories diverse programme of events, publications and learning opportunities helps to uncover the history of the site and surrounding communities.
Grangegorman Histories
By Maggie Armstrong
Your arrival brings a new chapter to the 200-year history of these cavernous buildings. You may have heard people talk about the "chequered", "dark" or "colourful" past of the site. Yes, generations of vulnerable people were incarcerated by their society in Grangegorman. It was also a space of learning and progress where new philosophies were pioneered.
The Clocktower
The Richmond Penitentiary, completed in 1816 and divided into halves to separate men and women, became the first exclusively female prison in Ireland or Britain. This model prison was founded on principles of moral reform advanced by philanthropists John Howard and later the Quaker prison reformer Elizabeth Fry. But there was no moral cure for poverty, and for many, the prison was a place that offered food and shelter.
Consider Elizabeth Markey who, aged 17, was held here for being "destitute". She was committed on 19 April 1837, the same day she died. Repeat "crimes" included drunkenness, larceny and "disturbing the peace." Women were committed for vagrancy and mental illness, and "common nightwalkers" frequently appear on the registers.
Juveniles were sentenced – 12-year-old Ann Walsh was sentenced to three months' hard labour in Grangegorman for stealing butter – while young children and nursing infants joined their mothers behind prison walls.
Anne Brien, 29, got a week for attempting to drown herself, before being moved to a so-called "lunatic" asylum – institutions, like the poor houses, that had a symbiotic link with the prison system.
Before it was a prison – with its Transportation Depot, where an estimated 3,200 Irish women and children were transported to Tasmania – the Richmond Penitentiary operated as a Fever Hospital during an outbreak of typhus in 1818. In 1832, from April to December, it served again as a temporary Cholera Hospital during the vicious cholera epidemic that claimed the lives of 4,478 Dubliners alone between March and December of that year, as estimated by the Cholera Board. The disease was highly contagious and deadly, killing victims within 12 hours of contraction.
On 13 April 1832, the emergency 'Cholera Board' published a proclamation appealing to people to remove the sick to hospital, ventilate rooms, scrape floors and wash surfaces with lime while burning and replacing straw bedding. Only recovered patients were to self-isolate: "not to visit in a family, or go to a place of worship, or any crowded assembly." Wakes, and the house visits beloved by the Irish, were discouraged. This treatable disease struck worse in poor, overcrowded places without a clean water supply.
We know that a cholera cemetery was built in the garden of the Richmond Penitentiary. In 2015 trenches were unearthed by construction workers near the Broadstone Luas, and remains of thousands of individuals were excavated from charnel pits. A single headstone was found on the plot, that of Anthony Donlevy who died on 28 July 1832 during the peak of the epidemic.
Grangegorman has been instrumental in the containment of infectious diseases. Further outbreaks of typhoid, cholera and beri beri, a tropical disease of undetermined origin in Grangegorman, spread in the institution and in 1897 the Penitentiary was again taken over as an Isolation Hospital. In 1895, a disinfecting laundry was built on the site – now the HSE Primary Care Centre. The arduous disinfecting process involved separating foul and general washing, steeping, washing at high temperatures and hanging out on bleaching lines for sterilisation by UV rays.
The Lower House
South of the Clock Tower, the Lower House – the GPO in Neil Jordan's film Michael Collins – was one of the first public psychiatric hospitals in the country. The Richmond Lunatic Asylum offered a humane alternative to vagrancy or physical restraint at home which mentally ill people were often subjected to. The Richmond received its first patients from the nearby Houses of Industry in 1814. It championed the "moral management" of patients – proper diet, exercise, social interaction and "occupation" or work (unpaid, however). The male work included tailoring, shoemaking, carpentry and weaving, while female patients were employed at needlework, spinning and of course, laundry.
RIAI Murray Collection, Irish Architectural Archive
The Richmond operated a farm and garden where a broad variety of vegetables were grown and used in the kitchens. During the Great Famine of 1845 to 1849, an entry for 16 September 1846 is found in the Richmond Lunatic Asylum Minute Books. "Potato contractor" Mary Ryder had to be released from her contract having stated her "inability to continue a supply of good potatoes in consequence of the failure of the crop…and the impossibility of procuring good potatoes." It notes that the potatoes grown on the farm at Grangegorman were blight free and added to the patients' diet.
Leisure activities included visits from musical and drama groups, reading in the extensive library, and cricket and athletics on the playing fields. In the 1850s, every patient in the Asylum was attending a national school programme.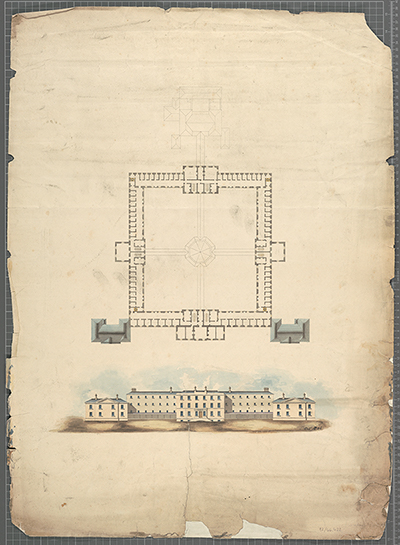 RIAI Murray Collection, Irish Architectural Archive
The Richmond also served as a shell-shock hospital during the First World War. The post-traumatic disorder caused by exposure to bombardment affected 10 per cent of British soldiers during this war, and some 210,000 Irishmen fought in the First World War. A dedicated 32-bed wing was set up, and between June 1916 and December 1919 the Richmond War Hospital treated 362 soldiers.
Unfortunately, by the 1940s the Richmond – now the Grangegorman Mental Hospital and later St Brendan's Hospital– was overcrowded, with over 2000 patients. Statistics show that more patients were treated here than in any other asylum in the country. If Grangegorman's history is chequered, the dark parts occur in the 1950s, when insulin therapy, electroconvulsive therapy and lobotomy were practised as well as the "treatment" of homosexuality. Lobotomy, involving the surgical separation of the frontal lobes of the brain, was performed on hundreds of patients at Grangegorman. Dr Brendan Kelly has described it as "possibly the biggest single mistake in the history of psychiatry."
St Brendan's Hospital, in newly named Rathdown House, closed in 2013 as they moved into new facilities in the Phoenix Care Centre. The history leaves a complicated legacy, and its ghosts can be felt. Attitudes to mental health change how society perceives this, where minds were closed minds can now be opened.
Selected Reading
Ivor Browne, Music and Madness (Cork, 2008)
Brendan Kelly, Hearing Voices: The History of Psychiatry in Ireland (Dublin, 2016) and Grangegorman: Inside the Asylum (forthcoming )
Fr Alan Hilliard, 'How Dublin Dealt with the 19 Century Cholera Epidemic', RTE, 30 March 2020 (see https://www.rte.ie/brainstorm/2020/0330/1127357-cholera-dublin-coronavirus/)
Rebecca Sharon Lawlor, 'Crime in nineteenth-century Ireland: Grangegorman female penitentiary and Richmond male penitentiary, with reference to juveniles and women, 1836–60', March 2012, Unpublished MLitt thesis, Maynooth University
Timothy P. O'Neill, 'Fever and Public Health in Pre-Famine Ireland', The Journal of the Royal Society of Antiquaries of Ireland, Vol. 103 (1973), 1–34
Joseph Reynolds, Grangegorman: Psychiatric Care in Dublin since 1815 (1992, Dublin)
National Archives, Penal Transportation Records (see https://www.nationalarchives.ie/article/penal-transportation-records-ireland-australia-1788-1868/)
Rubicon Heritage, 'Richmond penitentiary Cholera Cemetery excavation, Grangegorman, Dublin, article prepared by Dawn Gooney for The Archaeologist, February 2020
'Ghosts of Grangegorman', RTE Documentary on One podcast, March 2016
Fiona Gartland, 'Cholera victims' bones from the 1830s found on Luas line dig', Irish Times, 23 August 2015
Karl O'Brien, 'Goodbye Grangegorman', Irish Times, 23 February 2013
With special thanks to Una Sugrue, Senior Architect with the GDA and Conor Sreenan, Director of Strategy and Design, GDA.
Further information regarding the Grangegorman Histories Project, as well as the Foundation Document, can be found at www.granggormanhistories.ie or #grangegormanhistories.