View information below on the many facilities available on campus:
The Grangegorman Library which is located in Park House on the North Circular Road entrance to the campus caters for students based in the Central and East Quads. Here you can access collections in Art & Design, Culinary Arts, Electronic/Electrical Engineering, Environmental Health, Hospitality & Tourism, Law (including Criminology), Media, Music and Drama, Sciences and Health, and Social Sciences.
Park House is also home to our Academic Writing Centre, Career Development Centre, Disability Support Service, and the Maths Learning Centre.
More information is available here.
Outdoor Sports Facilities
Pitch 1: Full-size natural turf soccer and rugby pitch
Pitch 2: Full-size natural turf GAA pitch
Pitch 3: Full-size synthetic soccer pitch
Pitch 4: Synthetic surface. 3 tennis courts, hockey and soccer training area
4 changing rooms with four shower blocks, male and female toilet blocks
Indoor Sports Facilities
In the Lower House, students can avail of a range of fitness classes and small group training in Mills Bodypump, Les Mills GRIT, HIIT, Pilates, Kettlebells, Met-Con, and so much more. There is also a state-of-the-art indoor cycling studio featuring the new Keiser M3i model. With this bike, you can transmit your workout data to your phone, smartwatch, or tablet to maximise your workout. In the Glassmanogue building across from Rathdown House, there is also a Strength and conditioning area, a Cardiovascular and Resistance gym, and a TRX and class studio.
Lower House
TU Dublin Students' Union is based in the Lower House. There are Students' Union Common Areas on the ground and the first floor. Students' Union Common Areas are spaces where students can eat their lunch, take a break, charge their phones, and hang out with friends.
There are a number of services available at TU Dublin Students' Union's Front Desk in Lower House provided by TU Dublin SU, such as Leap Card and merchandise sales. TU Dublin SU will also host student events such as Workshops, Panel Discussions, Cultural Celebrations, Tournaments, Comedy Nights, Film Screenings, Award Ceremonies, Class Meetings and much more!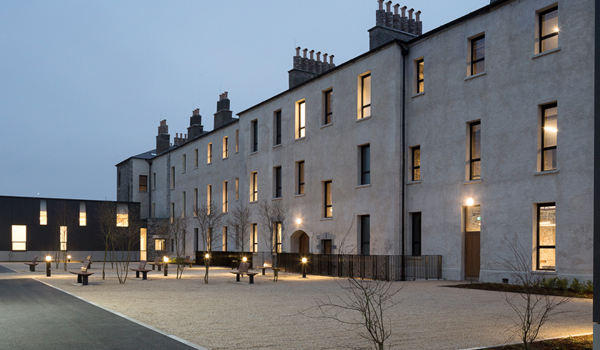 Bradogue
The Student Advice Centre is in the Bradogue Building, which is beside the Rathdown House entrance to the Grangegorman Campus. This is your one-stop shop for all queries – whether related to your studies, welfare issues or indeed any question you might have. TU Dublin Students' Union provides information, guidance, and representation on everything from finance, accommodation, exams, & assessment matters to university rules and regulations.
There are also Students' Union Common Areas on the ground and first floor of the Lower House and on the ground floor of Bradogue. Students' Union Common Areas are spaces where students can eat their lunch, take a break, charge their phones, and hang out with friends.
Computer labs and study spaces across the cmpus are kitted out with state-of-the-art equipment, including high-spec Wi-Fi connected PC's. Students can also connect their own devices to the fast and secure University Wi-Fi network.
The University is a fully-enabled "eduroam" participant. Eduroam is a secure, world-wide roaming Wi-Fi access service developed for the international research and education community. Eduroam lets you access Wi-Fi quickly from your laptop and mobile devices at other eduroam sites by authenticating against a server hosted at the University. Students can use the eduroam Wi-Fi service when visiting participating sites and vice versa, eduroam visitors can access the eduroam service provided by the University. Further information can be found here.
The University has a dedicated IT support team across all campuses. Their aim is to deliver and support a rich set of technology services that are customer focussed and which will contribute to its vision of transforming university life through the use of digital technologies and services. Further information can be found here.
Rathdown House is now home to a Student Wellness Centre where students can see a doctor or nurse free of charge. The Centre provides a holistic approach to health, including on-campus healthcare and specialist clinics, incorporating physical, psychological, and social aspects of your health and well-being. You will find more information here.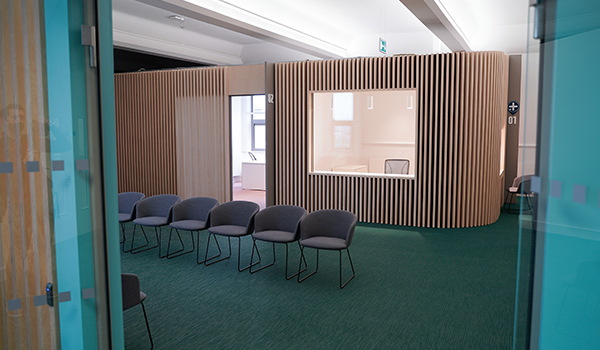 Our Counselling Service, which is also located in the Student Wellness Centre, is available to support you with any problem or experience that affects your ability to concentrate on college work or to enjoy life as a student. Our team of professional counselling psychologists and psychotherapists is available to support students' experiencing personal and emotional difficulties, relationship and family problems and a range of other mental health challenges. View information on your local Counselling Service here.
Rathdown House, in addition to housing a large 250-seater canteen and our Student Wellness Centre, is a one-stop-shop for student queries including Admissions, Registrations, Exams, International Office, and Access & Civic Engagement.
Students can rent lockers in the Central and East Quads here.
The lockers will be available for sale from 8am on Thursday, 30 September and will cost €25 for the year. There will be three locations to rent lockers in - the East Quad, Central Quad, and Culinary Arts - Central Quad. The lockers in Culinary Arts - Central Quad are for the use of students from the School of Culinary Arts and Food Technology only and are located in the Lower Ground Floor of Central Quad, an area that is only card accessible by students of the School.