WE Support Panel Series Launches on International Women's Day 2022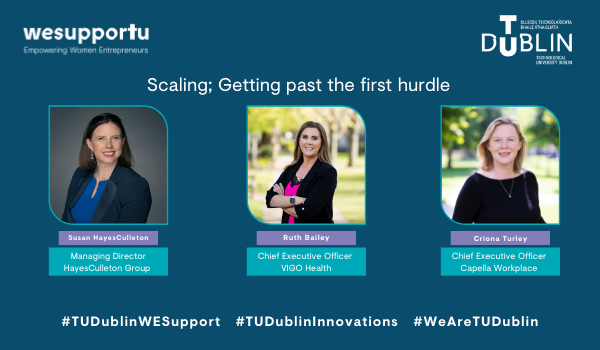 Following on from the highly successful WE Support Hackathon supported by CONVENE – WE Support are delighted to announce the launch of our WE Support Panel Series starting 8th of March 2022.
Moderator Susan HayesCulleton will host Guest Speakers from Atmos Q, BeeInstant, acquired by Instana (an IBM company), Capella Workplace Solutions, Empeal Health, Idiro Analytics, Kianda Technologies, Mooze Vegan, Positive Carbon, TU Dublin, TU Dublin Hothouse, VIGO Health, Zutec who will provide insight into the Entrepreneurial Journey as a female founder and employee.
The Panel Series will launch on International Women's Day 2022 (Tuesday 8th of March, 2022) and will run until August 10th, 2022. Registration is required to attend the WE Support Talk Series via: https://tudublinwesupport.eventbrite.ie.
WE Support Panel 1
Title: Scaling; getting past the first hurdle
Date: 8th March 2022
Time: 10:30am – 11:30am
About:
Moderator Susan HayesCulleton, Managing Director of the HayesCulleton Group welcomes Guest Speakers - Criona Turley, CEO of Capella Workplace and Ruth Bailey, CEO of VIGO Health who will discuss their personal and professional journey as women entrepreneurs and provide insight and overview on 'Scaling; getting past the first hurdle'.
Register via: https://tudublinwesupport.eventbrite.ie
Susan HayesCulleton, Managing Director of the HayesCulleton Group
Susan HayesCulleton, CFA, "The Positive Economist" is managing director of the Hayes Culleton Group, with clients across Europe and the USA. The businesses include Active Peers AI which unlocks, diffuses and records strategic tacit knowledge within networks and #SavvyTeenAcademy which manages the entire experience of teenage work experiences in corporate organisations. The company also provides training, speaking and content development services, in the subject areas of the financial markets, economics and entrepreneurship. Susan has published "Money Matters", a textbook sponsored by CFA Society Ireland, to go into every secondary school in Ireland to promote and democractise financial literacy right across the country. She has twice co-authored "Positive Economics", the market-leading Leaving Cert economics textbook in Ireland, and she is the author of two books published by Penguin, The "Savvy Woman's Guide to Financial Freedom" and "The Savvy Guide to Making More Money". Susan is co-founder of The Positive Economist, Associate Lecturer at Ulster University, host of Fantastic Female Fridays and the ESG & Tech Show as well as presenter of the Savvy Women Online podcast. She serves on the boards of the Irish International Business Network and the Ireland Hong Kong Business Forum. Susan holds a Chartered Financial Analyst charter, MSc Executive Leadership, BSc Financial Maths and Economics and a Diploma in Taxation.
Criona Turley, CEO of Capella Workplace Solutions
At Capella we partner with our clients to develop and deliver the future of work within their organisations. We are passionate about helping brands deliver on standards of productivity, wellness, safety and employer responsibility to their employees. Having worked as an MD across large and small businesses over the past 20 years, I have a successful blend of experience in sales, HR, finance and operations from both a manufacturing and services perspective. My priority every day is to balance a focus on profit to the bottom line with staff performance and wellbeing by delivering best in class software solutions to our customers.
Ruth Bailey, CEO Vigo Health
Currently on the journey of start-up number four, Ruth Bailey is Co-Founder and CEO of VIGO Health – a digital health and wellbeing start-up focused on providing a new type of cover to under 35-year-olds. Focusing heavily on digital healthcare and fast access to everyday care, Ruth developed the concept, secured investment, managed the platform build, hired the team and successfully launched the new brand to market all during a pandemic doing this 100% remotely. Ruth is CEO and is also a member of the VIGO Health board of directors.
Previous positions include being a founding member of GloHealth, a health insurance start up that launched in 2012 with responsibility for sales, marketing and product development. GloHealth was subsequently sold to Irish Life in 2016. Prior to this, Ruth worked as Head of Marketing in Aviva Health after Aviva acquired VIVAS Health, another challenger start-up business Ruth was part of. Ruth started her entrepreneurial journey by opening an accessories boutique in Dublin city centre straight after graduating from a degree in Marketing in 2002. Ruth holds a master's degree in Strategic Management, a degree in Marketing, an Executive Diploma in Finance, and an Executive Diploma in Strategic Digital Marketing all from Technology University Dublin. Ruth is also a qualified financial advisor and a certified insurance practitioner.
Upcoming Panels:
Why is Entrepreneurship important to TU Dublin?
Work Life Balance; Women Entrepreneurs
Entrepreneurial Thinking; a mindset
What does it mean to be Women Entrepreneur?
Challenges of being Women Entrepreneurs