TU Dublin Launches Pharma Virtual Reality Training With Biopharmachem Skillnet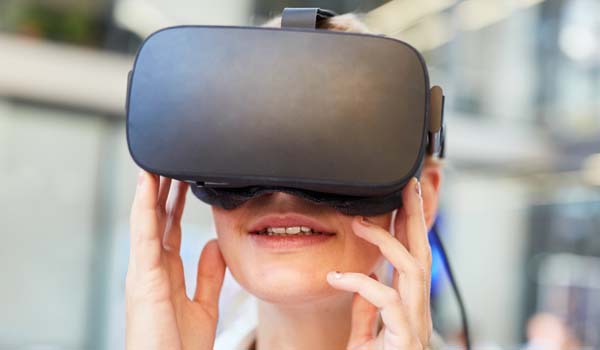 BioPharmaChem Skillnet has launched a new Virtual Reality (VR) Training programme developed for the Pharma Industry in collaboration with Technological University Dublin.
Following the successful BioPharmaChem (BPC) Skillnet VR Training programme in Aseptic Techniques for Biomanufacturing launched in March 2021, a second dedicated training programme was developed in collaboration with Dr Brian Vaughan, Founder/Director, Virtual Interaction Research Lab (VIRal) at TU Dublin, in Powder Handling for Pharmaceutical Manufacturing. VIRal is a cutting edge virtual and augmented reality research and development environment with a large, dedicated space in TU Dublin.
Powder handling is a critical skill in Pharmaceutical Manufacturing, and this new VR programme enables staff to learn the essentials in a low-risk environment. The customised VR platform has the potential to reduce training costs for a pharma operation by up to €1,000 per week, as staff can virtually perform activities such as the health and safety aspects of powder handling, charging operations, drumming and bagging operations and formulation activities in a simulated Pharma environment.
Speaking at a virtual launch for Powder Handling for Pharmaceutical Manufacturing, Paul Healy, Chief Executive at Skillnet Ireland, said, "Virtual reality is showing remarkable results for the industry in terms of operational excellence and efficiencies, with Skillnet Ireland, BioPhamaChem Ireland and TU Dublin at the forefront of skills development through VR. As this programme demonstrates, working with Skillnet Business Networks offers huge promise for higher education in Ireland, by bringing a readymade gateway into the industry and to working directly with companies."
The Powder Handling for Pharmaceutical Manufacturing course was led by the BioPharmaChem Skillnet Business Network, which includes leading global and indigenous organisations in the pharmaceutical, biopharma, chemical and medical device sectors. This is the first such programme specifically developed for the sector containing high levels of virtual reality engagement tied to specific learning outcomes.
Discussing the upcoming training programme and the potential impact on the Pharma Industry, Susan Costello, Network Manager, BPC Skillnet, was delighted to announce that "The BioPharmaChem Skillnet's first VR programme – 'Aseptic Techniques for Biomanufacturing,' developed in conjunction with Dr Brian Vaughan at TU Dublin is shortlisted for the upcoming Pharma Industry Awards in the Pharma Education and Training Award Category.'
'The Pharma Industry Awards is the long-standing award programme for recognising and celebrating the most original and innovative individuals and companies that demonstrate excellence in Ireland's pharma industry."
Demonstrating the new training programme, Dr Brian Vaughan, Founder/Director, VIRal, said, "Virtual Reality is a powerful tool for providing engaging and immersive training experiences in the Pharmaceutical industry. Our unique approach ensures that our projects are driven by a number of pedagogical approaches to ensure that users get the maximum impact from the experience."
David Gardiner, Licensing Executive for TU Dublin Hothouse and co-founder of VIRaL, moderated the launch and was joined by Matt Moran, Director of BioPharmaChem Skillnet Ireland. The Keynote Speaker provided insight on 'Unlocking the future: Tech is the key,' and panellists Reg Bennett; Technopath, Maya Przybylo; Sanofi and Tom Nyhan; Janssen Pharmaceutical, provided an overview on the 'Benefits and Learnings of Using VR,' for attendees at the event.
The new course will be available from the end of April 2022. For more details on BioPharmaChem Skillnet, visit https://www.bpcskillnet.ie/.