Air Pollution and Mortality on the Island of Ireland Launch - Friday, 31 March, 10.30 am – 12.30 pm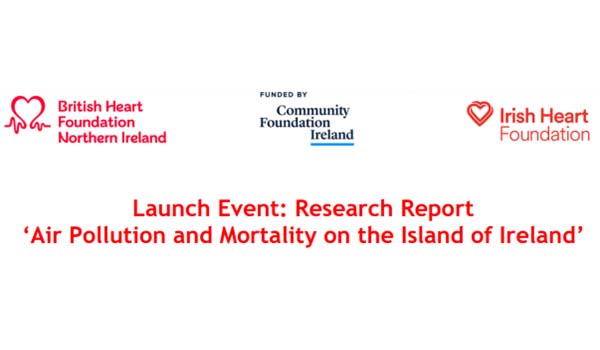 The Irish Heart Foundation (IHF), in partnership with the British Heart Foundation Northern Ireland (BHF NI), with funding from Community Foundation Ireland, is launching the findings of their new research, which highlights the impact of air pollution on our heart and circulatory health.
The research, carried out by Prof. Pat Goodman of the School of Physics, Clinical and Optometric Sciences in collaboration with colleagues at Queens University Belfast (QUB), will be launched during a webinar on Friday, 31 March, from 10.30 am – 12.30 pm.
Join Prof. Pat Goodman for the online webinar to hear about the alarming number of deaths attributable to air pollution across the island of Ireland. The report breaks down the number of premature deaths island-wide, nationally, and by county and city council.
We are also delighted to welcome Dr María Neira, WHO Assistant Director-General a.i., Division of UHC/Healthier Populations and Director, Department of Environment, Climate Change and Health, as the keynote speaker who will explain the potential health benefits of meeting World Health Organization Air Quality Guidelines.
Please register for the zoom event here - https://zoom.us/webinar/register/WN_6_P4oFfUT9GboPbnMM3e3g
Date: Friday, 31 March
Time: 10.30 am – 12.30 pm
Where: Zoom Webinar